Treat multimedia journalists as 'gate-crashers' - Govt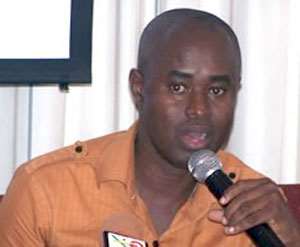 James Agyenim Boateng
All Ministries, Departments and Agencies of the Government of Ghana, who entertain any reporter of the Multimedia Group Limited, will laugh at the wrong side of their mouths.
The extension of the ban to government-related institutions on the MGL reporters was made public by a deputy Minister of Information, James Agyenim Boateng on Wednesday.
He said any journalist of the MGL who dares to attend a state function will be regarded as a 'gate-crasher' because the 'entire government machinery' have been instructed not to give them hearings due to their bias towards the opposition New Patriotic Party (NPP).
Agyenim-Boateng on Monday told Citi News the media group has not been fair to the ruling National Democratic Congress (NDC) hence the latest position of the government.
'In the light of the large development on Asempa FM which led to a mob of NPP people led by Anthony Karbo storming the station, that incident for example did not find any space in the news bulletin of Joy FM and so by their conduct they have shown that they cannot be a fair party and neutral.'
'We consider that not in our interest… more importantly, we cannot guarantee the safety of our people when they appear on their stations,' he added.
The deputy minister in another interview with an Accra-based Okay FM on Wednesday, said since government has taken a unanimous decision not to use any of the MGL platforms to propagate its messages, any reporter coming from the media outfit should be deemed a 'gate-crasher'.
Gate-crashing is the act of attending an invite-only event without invitation.
'We'll find other platforms to carry out our messages. Multimedia journalists are not invited to cover state events,' Hon. Boateng said. 'They give the NPP much coverage. The solution now lies with MGL. We're doing fine as a government.'
Meanwhile, the MGL has denied accusations of bias by the Government of Ghana, saying they covered the mob action on Asempa FM on their Top Story programme of February 22, 2012.
The group includes Joy FM, Asempa FM, Adom FM, Nhyra FM, Hitz and Multi TV among other affiliates.
Source: Citifmonline