Teachers urged to avoid partisan politics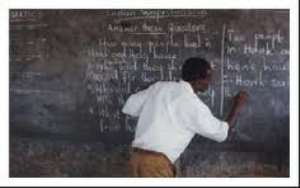 Nkoranza (B/A) March 22, GNA – Dr George Adjei-Hinneh, Brong-Ahafo Regional Director of Ghana Education Service, has advised teachers against actively engaging in partisan political activities.
He said teachers interested in active partisan politics could resign and join politicians to serve the nation and their communities.
Dr. Adjei-Hinneh said this when addressing a maiden meeting with staff of Nkoranza South Municipal Directorate of Education and heads of basic schools in the municipality in Nkoranza at the weekend.
As civil servants, he added, teachers are also responsible to serve any government and that it would not be prudent for any teacher to openly engage in politics while at post.
Dr Adjei-Hinneh said this could even create enemies for such teachers in their communities and urged the teachers to come together and offer quality education service to the youth and help enhance the development of the nation.
He deplored the negative attitude and practice by some teachers who failed to prepare their lesson notes or absented themselves from school without permission from their immediate heads.
"We will not countenance such misdemeanours and will deal with such recalcitrant teachers to serve as a deterrent to others", he added.
Madam Philippa Banson, Nkoranza South Municipal Director of Education, said there were 82 kindergartens, 94 primary and 40 Junior High Schools (JHS) in the public and private sectors in the municipality.
She said there were also four Senior High Schools (SHS), two each in the public and private sectors.
There is also special basic boarding school for mentally handicapped children with a total population of 147, made up of 91 male and 56 female students.
Madam Banson commended the heads of schools in the municipality for their co-operation and support in the discharge of her duties and urged them to maintain the "let us do together" spirit for an improvement in the standard of education in the area.
On behalf of the teachers Mr Thomas Kuugan, Headteacher of Nkoranza Methodist Primary School, thanked the regional director for his visit and gave the assurance that teachers in the municipality would not relent in their efforts to help enhance education in the area.
GNA