Joint Military exercises improve skills - Air Vice Samson-Oje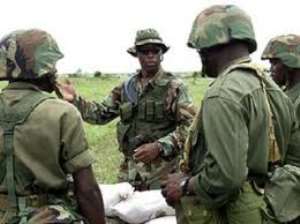 Accra, March 22, GNA - Air Vice Samson-Oje, Chief of Air Staff, has said joint military exercises of the armies of different countries afforded them the opportunity to learn from each other and improve upon their skills.
"Learning from each other could save you from years of trial and error which often leads to many avoidable mistakes", he said.
Air Vice Samson-Oje said this on Wednesday in Accra when participants of a two week flight training programme in Ghana visited him.
The programme code named "The African Partnership Flight 2012" is being attended by 140 participants from Ghana, Nigeria, Senegal, Togo, Uganda, Benin and 60 participants from the US.
It is a Military to Military multilateral and regional engagement event designed to enhance the Air Force capacity of African partner nation, with greater regional cooperation to enable increased air security.
Air Vice Michel Samson-Oje said apart from learning new things, such joint exercises prepare the ground for the Armed Forces of different countries to easily collaborate when the occasion arises.
He commended the US Air Force and the coordinators of the programme, saying "we have learnt new ways of doing things and it will improve upon the skills of the participants.
Col. David Poage, African Partnership Flight Mission Commander, said this was the first time several African countries have been brought together to train, adding that "we want to build relations as well as exchange technical knowledge for the benefit of all".
He said despite the fact that the Air-men were from different countries both Anglophone and Francophone there were professional interpreters who helped bridge the language barrier and that prior care had been taken to ensure that cultural and environmental differences posed no problem.
Flt. Lt. Oyewola Nike, a participating Air-man, expressed satisfaction at what he learned saying "we have shared a lot of experiences and we have had great instructors. Am impressed and my other colleagues are impressed as well".
As part of the day's occasion, there was a demonstration of loading off passengers as well as cargo and air field security.
GNA