DON'T VOTE FOR PEOPLE WHO HAVE NO RESPECT FOR WOMANHOOD- Ofosu Kwakye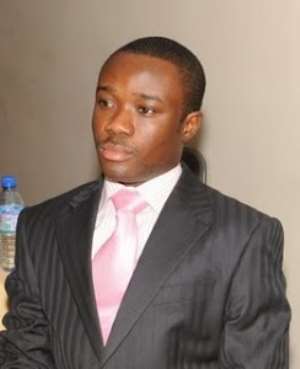 Mr. Felix Ofosu Kwakye
A member of the NDC communication team, Mr. Felix Ofosu Kwakye has asked Ghanaians not to vote for a candidate who has demonstrated least respect for womanhood and their welfare.
Speaking at the Accra City TEIN forum, Mr. Kwakye describe the NPP presidential candidate as a dangerous person who cannot be trusted with the most powerful position of the land , considering his attitude and relationship with women.
He said Nana Addo's recent past experience with women has given him up as someone who lacks moral and self control when it comes to dealing with women as such, cannot be trusted with the multitude of women and children in this country.
According to Mr. Kwakye women and children constitute the majority in Ghana's population and deserve all the protection and assistance to enable them take their proper place in society and for that matter any candidate who represents a danger to this realization; should not be considered for the highest position of the land.
Though confident of an NDC victory come 2012, he was quick to throw in a sign of caution to all, not to pay attention to the numerous misinformation and misconception being churned out by the opposition NPP to keep Ghanaians from fully digesting the true character behind the personality of Nana Addo.
Mr. Kwakye said aside the insatiable desire of the NPP candidate to occupy the highest office of the land; he is ready to toil with the lives of every Ghanaian just to achieve this dream. A point he said, which must guide every voter seeking to preserve the peace and tranquility of this country.
He said Nana Addo's ALL- DIE – BE – DIE slogan should not be treated as child's play rather, it should encourage masses of Ghanaians to go out in their numbers and vote against him.
He also draws attention to the vile propaganda and attempts by the opposition NPP to discourage people in the strong hold of the ruling NDC from partaking in the upcoming biometric registration under the pretext that the biometric machine can cause cancer.
Mr. Kwakye made it clear that there is no proof of this wild statement and that the machines were indeed safe for new and all legible voters to register to enable them vote come 2012.
The Deputy Information Minister who was rather late for the program asked the NDC family to be rest assured that the NDC is going to register a handsome victory which will finally settle all doubt about current administration of the NDC.
Hon. Okudzeto Ablakwa, indicated that the signs of victory were clear and that sijmnjmgnal from the entire country has shown that the NDC was alive and ready to battle and match to the castle once again with his Excellency the president leading the onslaught.
By: Ibrahim Amadu