NANA AKUFO-ADDO IS A LEADER AFRICA MUST WATCH OUT FOR (Part 2)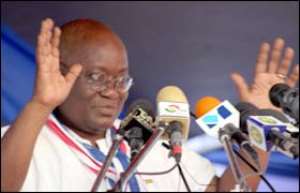 I did posit in "Part 1" of this article that "Until there is a paradigm shift in our economy this laudable programme of free SHS education cannot be sustained if Nana Addo is elected. Fortunately, he possesses the requisite qualities and the right leadership Ghana needs today."
Ghana as a sovereign country cannot continue to be doing the same thing over and over again and expecting different results. That is why I am particularly elated that a new leader is emerging to change the face of our socio-economic dynamics in Ghana. Honestly, this would not be achieved easily but I strongly believe when the good people of Ghana give Nana Addo Dankwa Akufo-Addo the mandate, he will not fail us. Leadership and I mean leadership is what Ghana cries for now, for the industrialisation and purposeful transformation that would touch the lives of the masses. And with an industrialised and transformed economy, the laudable free Senior High School (SHS) education would be sustained for a very long time. That is a visionary leader the NPP is talking about.
Nana Akufo-Addo made a profound statement during a recent interview he granted on BBC flagbship programme, HARDtalk hosted by Stephen Sackur when he was asked about China's presence in Ghana. I was not surprised that his answer on China's presence in Ghana was the headline on BBC official website. Nana Addo opined that under his leadership, he will welcome every country and investor, including China, Great Britain, America, etc. and the focal point is that those countries and investors would share and appreciate his vision on value addition. There will be value addition to our tremendous human capital, to our public sector delivery, our physical infrastructure, our environment, our housing and to our economy.
It is impressive that Ghana and Africa has hope. I am very certain that Nana Akufo-Addo will do things different for Ghana to be competitive in the global economy. He says "Now, I want to lead our country onto the next stage: the industrialization of Ghana – from a producer of raw materials to a manufacturer of goods and a provider of cutting edge services in Africa." At a Liberty lectures organised by the Danquah Institute last year among other things Nana Addo said that "Ghana should be at the forefront of the industrialisation of West Africa. We will add value to our bauxite by building an Integrated Aluminium Industry and export manufactured aluminium products as was envisaged by the Kufuor administration. We will add value to our iron and build a new Iron and Steel Industry. Our salt will be part of this new vision. I want to see a West Africa that is working together to create jobs for its people; providing decent lives for its population and I want to see Ghana being at the driving seat of that regional project." Nana Addo also said that "voters agreeing and God-willing, the next NPP government will take office with a clear programme of action for the industrialisation of Ghana- an economic transformation that touches every region of Ghana."
We all know agriculture contributes a lot to our GDP. Apart from cocoa that is doing quite well, how is the forestry, poultry, stable crops and the fisheries industry doing? Per the government's recent budget that was read in Parliament, it is clear the agricultural sector has performed abysmally. Nana Addo says "... the NPP will not consider the agricultural sector as a stand-alone sector. The sector will serve as the platform for socio-economic transformation and growth of our rural communities. This will be anchored on an integrated approach. The three themes will be to expand, intensify and diversify agriculture." Nana Akufo-Addo has also pledged to bring back the Ministry for Fisheries.
All too often what we hear is the government touting a so-called unprecedented economic fit and development, and that Ghanaians will renew their mandates come December, 7. I will not discount the importance of inflation management since it is good for our macroeconomic. The significant concerns and the cries on the streets, and everywhere is that, the rate at which goods and services are increased is doubled, tripled and quadrupled. Yet, we are told that we have single digit inflation. I have a simple question. What shall it profit the ordinary Ghanaian, the masses if we gained single digit inflation and yet, day in, day out we get more impoverished?
We live in a country where we have a large informal sector and no matter how hard we try to manage inflation, without a clear policy supporting the informal sector, the masses will continue to suffer and the macro indices would not reflect in this sector.
Under the focused leadership of President Kufuor, we discovered oil in commercial, and the oil has given the Mills' administration the fiscal space to borrow more money. The government has borrowed about US $10 billion so far, and honestly, there are no concrete projects to show for. We are now told the US $3 billion from the China Development Bank will do the magic. This NDC government never ceases to amaze me.
Interestingly, President Mills says he has chalked unprecedented achievements and yet during their mammoth rally on Saturday, 17 March, the same President says "the next four years are going to be better, the next four years are going to see our dreams fulfilled." So which is which Mr. President? With the greatest of respect to the good Professor, Ghanaians are discerning and we know how astronomical our living standards are and the unique hardship meted to us, the ordinary Ghanaian.
I have always being passionate about leadership, because that is the fundamental problem of Africa. I said in "Part 1" of this article that "the world and, Ghana for that matter has no time to waste on visionless and mediocre leaders." I could not have agreed more with Nana Addo's assertion that "This is the time for a visionary leadership, supported by a competent team, to move forward Ghana's agenda for industrialisation."
John F. Kennedy, the 35th President of the United States, said "Our progress as a nation can be no swifter than our progress in education. The human mind is our fundamental resource."
The central vision of Nana Akufo-Addo's campaign is to transform the Ghanaian economy with an educated workforce. That is a transformational leader who wants to do things different in Ghana and Africa, to propel our economy to an enviable height.
The NPP and Nana Akufo-Addo can and will do all things through Christ who strengthens us.
God bless us all.
Solomon A. Kabu ([email protected])
facebook.com/solomon.kabu - 0241133727