KATH strike: Doctors dare management to sack them if...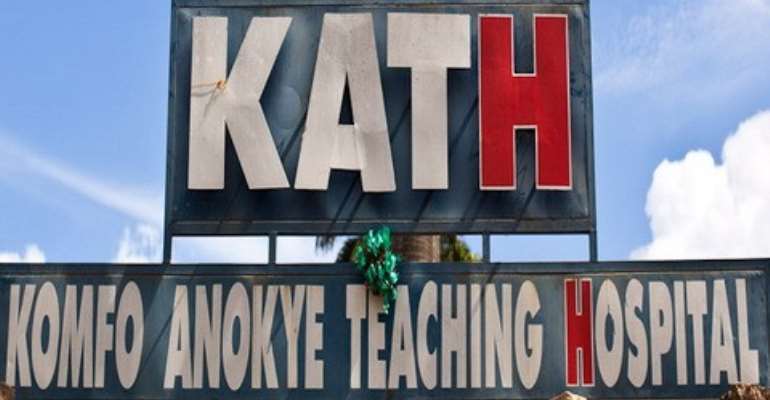 The leadership of the striking junior doctors of the Komfo Anokye Teaching Hospital has dared management of the hospital to sack them if management believes their action is unjustifiable.
The junior doctors on Tuesday embarked on an indefinite strike to protest the poor state of the hospital.
But Board Chairman, Dr. Lewis Bartels Charles Des Bordes, has hit hard at the doctors, accusing them of violating the ethics of their calling. He also thinks they are not committed.
Addressing a news conference Tuesday, the board chairman warned that the doctors will not be allowed to "hold a gun to the head of the hospital's management", condemning their action as "unethical" and warned them of risking the exposure of "skeletons in their cupboards".
Chief Executive of KATH, Professor Ohene Adjei suggested that the doctors had acted in bad faith as the concerns they raised were receiving the necessary attention.
According to him the problems raised were age-old, spanning over two decades.
"What is sad for me is when the impression is being created as if management has not taken pains to resolve any of those issues, and because of that there should be a strike action…Komfo Anokye is in a good state… the pressure is very high and management is doing everything possible to deliver quality healthcare services within our limited resources."
Prof. Ohene Adjei said the hospital has acquired additional two new generators to augment power supply as well as undertaking the drilling of four boreholes to address water supply challenges there.
He also faulted the junior doctors for failing to exhaust all laid down procedures before declaring the strike action.
Meanwhile, President of the Junior Doctors Association at the KATH, Lawrence Osei Tutu, told Joy FM's Evans Mensah on Top Story Tuesday, that management can take delight in engaging in talks instead of action, but they (doctors)would not return to work if their grievances are not addressed.
"I want to see action…we have raised the issues, if they believe they are genuine issues they should tackle them…there are two kinds of people; we have the doers and we have the talkers. We have taken our action, they should keep talking."
He enumerated some of the problems as lack of drugs and oxygen for patients, obsolete equipment as well as overcrowding at the hospital. He said while the management claims that two generators have been bought and four boreholes dug, the hospital still experiences power outages and water shortages.
"We have told you this is a crisis, this has reached critical level, the hospital is collapsing, and you want us to give you how long to deal with them?"
Dr Lawrence Osei Tutu has therefore dared management to "sack us, they should sack us, they should find all those dockets and I will support them, if I am among [those behaving unethically] they should sack me."
Meanwhile, Luv News' Elton John Brobbey reports that patients had crowded at the hospital when he visited there early on in the day with only a few doctors to attend to them.
The striking junior doctors were however attending to old cases, he observed.