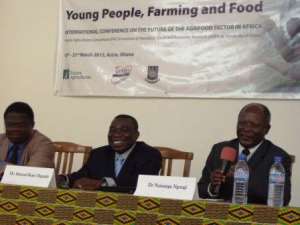 The poor participation of young people in farming and the agricultural economy directly threatens the future of Africa's agriculture and rural economic transformation, says Dr. Namanga Ngongi, President of the Alliance for Green Revolution in Africa (AGRA).
He has therefore tasked leaders in agricultural development, policy makers and professionals to articulate new interest and aspirations of young people in agriculture.
"Lack of support to improve productivity and bring innovation into the sector has in many ways pushed our people away from business opportunities in agriculture and into more attractive sectors like information and communication technology (ICT) or finance", stated Dr. Ngongi.
He was addressing the opening of a 3-day international conference on the future of agri-food sector in Africa, holding in Accra, Ghana.
The "Young People, Farming and Food" discussion is organized by the Future Agricultures Consortium (FAC) and the Institute of Statistical, Social and Economic Research (ISSER) at University of Ghana.
Dr. Ngongi described the conference as 'important and time' "at this watershed moment in Africa's development when agriculture has been re-discovered as the fundamental driver of the continent's economic and social transformation".
He observed that despite agriculture being the backbone of sub-Saharan Africa's rural economies, the vast majority of the continent's human assets and capital remain locked out of the economic sector across the entire agric value chain.
To make agriculture attractive to the youth, Dr. Ngongi calls for investments in education at all levels, support for agricultural innovation, building of market infrastructure and improving the business environment in ways that will raise incomes and expand the agriculture value chain.
Dr. Sam Asuming Brempong, of the Department of Agricultural Economics and Agribusiness, University of Ghana – Legon and a Coordinator for Future Agricultures Consortium, expects the conference to challenge a rethink of problems with the youth and agriculture.
According to him, new research questions will emerge from the discussions to propel new collaborations and partnerships for a sustainable youth agricultural ventures.
Story by Kofi Adu Domfeh/Luv Fm/Ghana