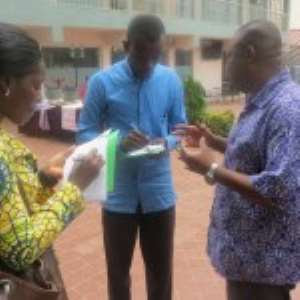 Oxfam, an international confederation of 15 organisations working together in over 90 countries, and with partners and allies around the world to find lasting solutions to poverty and injustice, has spent an amount of £500,000 last year in the Northern, Upper East and Upper West regions.
The amount was spent in three areas, namely health, agriculture and food security, and extractive governance in the three regions. The Agricultural Advocacy Manager of Oxfam, Mr. Mohammed-Anwar Sadat Adam, disclosed this to the Business Chronicle in Accra over the weekend.
She stated that: 'We are focusing mainly on northern Ghana, because of the challenges in that area. We are also working in mining areas of the south. Apart from these, we are working at the national level as well.'
The Country Director of Oxfam, Mr. Sebastian Tiah, added: 'We have field base programmes in the northern parts of the country. We also have the national programmes such as the GROW.'  'What GROW is saying is that the government must invest in agriculture,' he noted.
Mr. Tiah called on the government to develop integrated strategies to build poor people's resilience to hunger, by creating jobs, adapting to climate change, and social protection policies that target vulnerable small-scale food producers.
Public and donor investments in agriculture must be predictable, transparent, untied and channeled through a sector wide approach/budget support, and complemented by funding for civil society organisations, both as partners in ensuring accountability, and as complementary service providers, he explained.
Earlier, Oxfam, in partnership with over 15 community-based and civil society organisations across Ghana, held a civil society festival.
The festival provided space for conversation about critical issues concerning local communities, civil society, and other actors in Ghana.  The format was largely interactive with exhibition of works by Oxfam and partners.
The exhibition showcased important development activities undertaken by Oxfam and partners in Ghana, and discussed issues on accountability in extractive industry, free healthcare for all, and agriculture and food security.
Staff from Oxfam and partners, as well as community members, exhibited and discussed the services they provide to local communities, which they believe, have, or may be, positively impacted by the projects supported by these organisations in Ghana.
Also, Oxfam and partners showed some thought-provoking video documentaries taken from some of their working communities. These video documentaries were on food security, agric management, extractive industry, and maternal health.