Zimbabwe business grab scares investors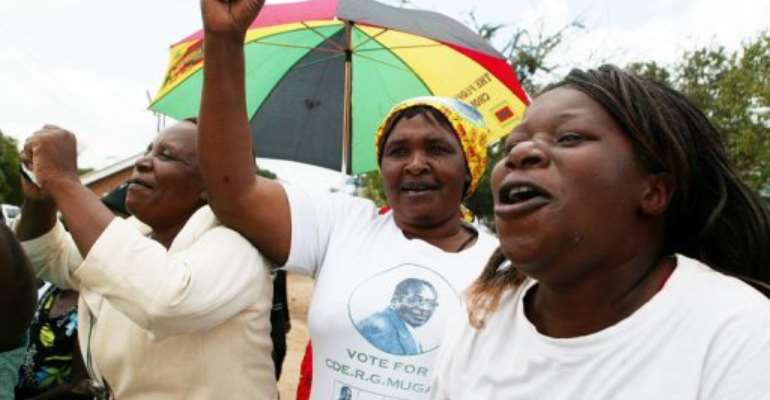 HARARE (AFP) - Zimbabwe's forcing of foreign firms to hand over a 51 percent stake will scare away much-needed investment, with no clarity on how the cash-strapped state will fund its big stick approach, analysts say.
The government's assurances that its "indigenisation" policy is not a nationalisation drive is unlikely to soothe nerves after platinum giant Implats capitulated on Tuesday after being threatened with a state take-over of its local subsidiary.
"It is doing so much damage to the country in terms of attracting investors for job creation. The policy is very bad," said Harare-based economist John Robertson.
The controversial law orders foreign-owned companies -- such as mines, banks and retailers -- to submit plans on how they will give up a majority share to locals.
But the government has yet to come up with a clear-cut explanation how it will pay for the shares taken or even how the process will be undertaken.
The confusion comes as Zimbabwe seeks massive investments to rebuild its economy, which was devastated by a violent land reform programme in which white-owned farms were seized.
A power-sharing government of rivals President Robert Mugabe and Prime Minister Morgan Tsvangirai formed after 2008 polls ended years of crisis and stabilised the economy.
Negative ripples from the indigenisation policy have been felt with key projects put on hold because investors are not keen to invest without a controlling stake, said analyst Erich Bloch.
"We have lost the potential to attract investment. The indigenisation policy is ill-advised and damages the economy," he said.
"Which investor would want to invest where half of his investment will be taken and wouldn't have a say in the running of their businesses?"
The plan for Zimplats, the local subsidiary of South Africa-based Implats, transfers 10 percent of shares to workers, 10 percent to a community trust in Ngezi where its mine is located and 31 percent to a National Indigenisation and Economic Empowerment Fund.
The companies are meant to be compensated, but questions have been raised about how Harare will be afford to pay for the shares in the local arm of the world's second largest platinum miner.
The Treasury has even said the country cannot hold elections, which Mugabe is pushing to hold this year.
"I think most of them are not going to get their payment or they will have to wait for many, many years to get their payments for the shares taken," said Bloch.
"This process is politically driven and it's being used to capture votes ahead of elections."
David Chapfika, chairman of the indigenisation board, told AFP that discussions are on-going to determine the value of shares in different companies.
"We are still working on the commercial value and sovereign value of the resources, we haven't made a decision."
But Finance Minister Tendai Biti last week said the shares taken up from foreign companies must be paid for.
"This is not nationalisation, money will change hands," he said.
The local shareholding push is one of several areas of difference in the uneasy unity arrangement.
Tsvangirai says it will push away investment, while 88-year-old Mugabe calls it "the next stage of our economic emancipation" after nearly 4,000 white-owned farms were seized in land reforms. Mugabe has threatened to nationalise companies that refuse to comply with the law.
There is also controversy over the state's role in the eastern diamond mines over funds transparency, with profits said to prop up Mugabe's ZANU-PF.
University of Zimbabwe professor Anthony Hawkins said the law will send "negative signals to potential investors" with the pressure put on Zimplats likely to push others to follow and hand in their own plans.
"If the biggest player on the block, Zimplats, is complying then you are going to see the smaller companies doing the same," he said.