GBissau ex-military intelligence officer 'killed'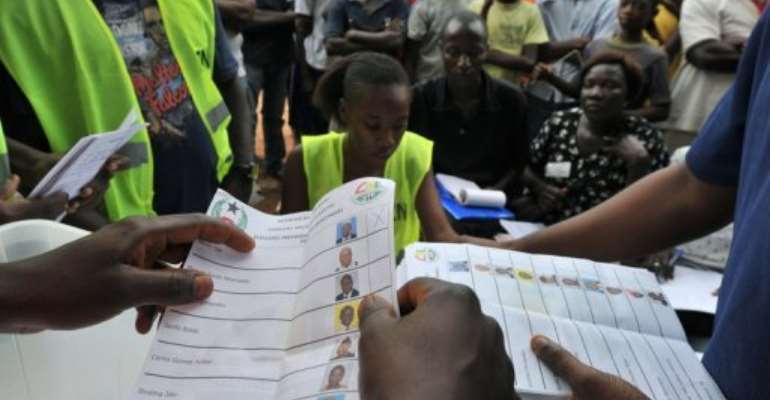 BISSAU (AFP) - Guinea-Bissau's ex-military intelligence deputy chief was shot dead by men in military uniform in the capital hours after polls closed in a presidential vote, sources told AFP Monday.
Colonel Samba Diallo, accused of involvement in a 2009 bombing that killed the country's then army chief, was shot dead late Sunday as he was seated at the terrace of a restaurant across from his home near the city centre, a soldier, a witness to the attack, and an NGO representative said.
All the sources requested anonymity.
"They shot at him over five times," a police source said, adding that Diallo's body was taken to his home.
A security official who went to Diallo's home overnight confirmed his death.
Diallo was deputy director of military intelligence until April 2010, when he was arrested with other top officers on suspicion of involvement in the 2009 attack.
He was released after eight months in detention, and has held no army position since then.
Voters in Guinea-Bissau cast ballots for a new president Sunday in a first round of polls seen a key test for the west African state whose chronic instability has fed a booming cocaine trade.
If no clear winner emerges, the vote will go to a second round in April.
Guinea-Bissau achieved independence from Portugal in 1974, the only west African nation to do so through armed combat.
But ever since then, the army and state have remained in constant, often deadly conflict, with the result that no president has ever completed a full term in office. Three have been overthrown in coups and one was assassinated in office in 2009.
Sunday's election came after the last president, Malam Bacai Sanha, died in January following a long illness.
Although the three-week election campaign was peaceful, some fear violence or even another military intervention if the army does not approve of the winning candidate.
Nine candidates are in the running, including Carlos Gomes Junior, 62, who stepped down as prime minister to run for the ruling African Party for the Independence of Guinea and Cape Verde (APIGCV), and ex-president Kumba Yala who was overthrown in a 2003 coup.