19 March 2012
|
Politics
Let Mills lead in reprimanding insulting supporters - Nana Addo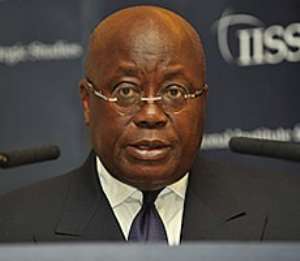 The Presidential Candidate of the opposition New Patriotic Party (NPP) Nana Addo Dankwa Akufo-Addo says he is the most vilified Presidential Candidate in Ghana's history.
Nana Addo is, therefore, asking President Mills to take the lead in reprimanding his appointees who use intemperate language in political discussion programs.
Last Week local Government Minister Samuel Ofosu Ampofu challenged President Mills and other political parties to publicly reprimand all appointees who insult their opponents.
Speaking to Joy News' Central Regional Correspondent Richard Kojo Nyarko in Cape coast, Nana Akufo-Addo said President Mills must first set the example.
"I don't believe there is a political figure – major political figure – perhaps in our history who has been as abused and as insulted as me. If NPP people are responding to that, maybe that is what it is; that they just don't see how they can stand by and watch their leader consistently maligned on allegations that are unproven and allegations that have absolutely no merit," he said.
Nana Addo insisted that, "I am very much opposed to the politics that focuses on personalities rather than the issues" and that explains why for the past 35 years that he has been in front-line politics, "my focus has always been on the issues of the day."
He said instead of calling for a truce and condemning politics of insults whenever he is abused, it would be a good idea for President Mills, who is the number one citizen of the land, to be heard "chastising some people in the NDC for the insults they hurl at other people."
Nana Akufo-Addo added his running-mate will be made public in the next two weeks.