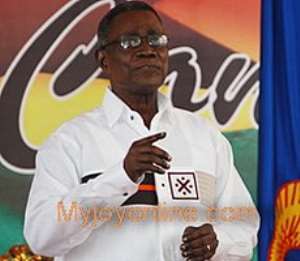 President John Evans Atta Mills says the surest guarantee of peace in the upcoming general election is for all Ghanaians to patronize the voters registration exercise by the Electoral Commission.
The President is also asking the Ghanaians not to take the tranquil atmosphere prevailing around the nation for granted but to work to preserve it.
The President was addressing throngs of Christians at the Independence Square yesterday, to climax the weeklong National Prayer and Fasting session.
He said God had showered so much blessings on Ghana and expressed confidence He will add "His seal of approval to our efforts."
In a sermon, the Chairman of the Pentecostal Council of Ghana Apostle Dr. Opoku Onyina urged Ghanaians to desist from the culture of insults.
He said Ghanaians are too gentle to be hurling insults at each other in the name of politics.