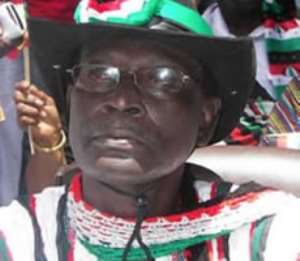 Chairman of the National Democratic Congress has described as regrettable the 'leakage' of his confidential letter to president John Mills.
Dr. Kwabena Adjei in his letter advocated for a meeting with the president and party bigwigs to resolve what he said were palpable cracks within the party but his letter somehow found its way to the press.
Speaking on pm:EXPRESS personality programme, Friday which is on the Joy News Channel on Multi TV, the soft spoken but intelligent man suspected the leak may have taken place at the Castle, especially when the president was out of the country at the time he wrote the letter.
Dr. Kwabena Adjei, who calls himself a middle liner, told hostess Esi Arhin on the show that though he is aware of the internal wrangling within the NDC, "any party without conflictual relationships is as good as dead".
He stressed that he is rather worried about the cliques or groupings within the party who seem to propagate disunity, adding that the formation of FONKAR is not a threat to the party because it was situational; having passed on after the congress.
He admitted things are a bit jerky now but noted his duty as a chairman is to nurture democracy and must be a unifying force- a legacy he would bequeath to the party.
The 69 year old psychologist reiterated that his middle liner role is what has kept him from reacting to issues and situations of insults.