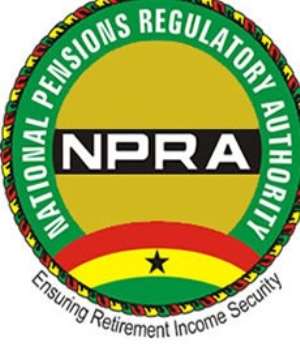 The New 3-Tier Pensions Scheme is now set to see full implementation from Monday, 19th March,2012.
This comes after National Pensions Regulatory Authority; NPRA finally released the provisional list of Service Providers for the scheme. These include 9 Trustees, 7 Custodians and 29 Fund Managers.
The authority has licensed 9 Corporate Trustees which are to manage the 2nd and 3rd tier pension contributions for the benefit of employees by designing the policies related to the investment of the contributions among others.
These include Petra Trust Company, Metropolitan Pensions Trust, Ghana, Pensions Alliance Trust Company and Provident Life Trust Company.
The rest are Universal Pensions Trust Limited, Secure Pensions Trust Limited, Enterprise Trustees Limited, United Pension Trustees Limited and Axis Pension Trust Limited.
The authority has also registered and approved 29 Pension Fund Managers which are to act as advisors to the Trustees in managing the investments of the 2nd and 3rd Tiers funds.
They are IC Securities, Ghana Limited, Databank Assets Management Service Limited, Prudential Securities Limited and Cidan Investments and Advisory Services Limited, New World Renaissance, EDC Investments Limited, Cal Asset Management Company, Fidelity Securities Limited, HFC Investments Services Limited, IFS Capital Management, Wealth Management Limited and All-Time Capital Limited.
Others include SDC Brokerage Services Limited, Frontline Capital Advisors Limited, NDK Asset Management Limited, New Generation Investment Services Limited, Stanbic Investment Management Services Limited, Unisecurities Ghana Limited and Chapel Hill Denham Securities Ghana Limited, Gold Coast Securities Limited, SIC Financial Services Limited.
The rest are EM Capital Partners Limited, CDH Securities, Liberty Capital Ghana Limited and Firstbanc Financial Services Limited, Merban Investment Holdings Limited, SAS Investments Management Limited, GFS Securities Limited and SEM Capital Management Limited.
Advertisement
Also registered and approved by the NPRA are 7 banks which would act Pension Fund Custodians. These are to hold the Pensions contributions and Assets in trust for members and also undertake transactions related to administration of Pension Fund Investments.
They include Ecobank Ghana Limited, Standard Chartered Bank, Stanbic Bank, Cal Bank,Agricultural Development Bank(ADB),HFC Bank and Prudential Bank
In a statement copied to Joy Business,the Board Chairman of the NPRA, Kwame Asante noted 5 guidelines and 6 application forms covering Occupational, Provident Fund and Group/Personal Pension Schemes have also been issued.
The guidelines and forms could be accessed at the NPRA Website (www.npra.gov.gh) from Monday, March 19, 2012.
According to the full implementation timetable, the NPRA also plans to carry out a nationwide stakeholder education and sensitization programme between now and June. This would be done through engagements with the media, Ghana Employers Association, Association of Ghana Industries, Chamber of Mines, Organised Labour, Informal Sector Associations as well as the Trustees and other Service Providers.