Coup-prone Guinea-Bissau votes for president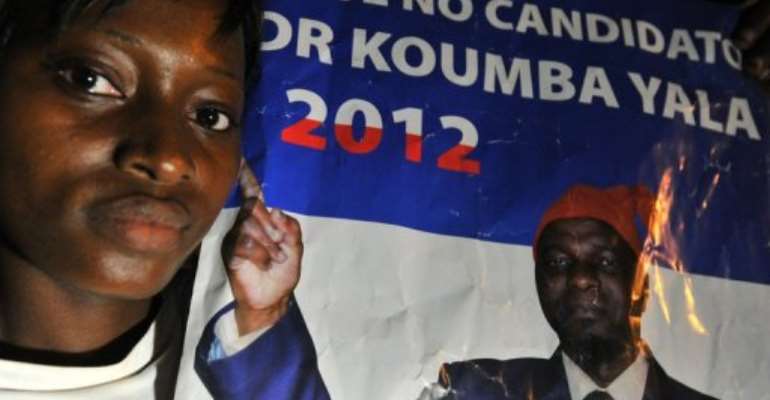 BISSAU (AFP) - The small coup-prone west African state of Guinea-Bissau goes to the polls on Sunday to elect a new president -- an office no one has yet held for a full five-year term.
Ahead of the voting, the appeals for calm multiplied from the international community well aware of the impoverished country's violent history.
Since independence from Portugal in 1974, achieved after an 11-year armed conflict, three presidents have been overthrown by coups, and one was assassinated in office in 2009.
A mutiny by renegade soldiers in April 2010 prompted the European Union and the United States to suspend crucial budgetary and security sector reform support - leaving much hanging on a smooth election and post-poll reforms.
The most recent president, Malam Bacai Sanha, died in January after a long illness, prompting Sunday's election.
Nine candidates are running for office, but only four have a fighting chance.
These include Carlos Gomes Junior, 60, who stepped down as prime minister to run in the election as the candidate for the ruling African Party for the Independence of Guinea and Cape Verde (APIGCV),
The others are Kumba Yala, who ruled Guinea-Bissau from 2000 to 2003, lawmaker Manuel Serifo Nhamadjo and Henrique Rosa, a former businessman.
Some 180 foreign observers from the Economic Community of West African States, the African Union, the Community of Portuguese-Speaking Countries, Britain, the United States, Nigeria and South Africa are to monitor the polls.
The United States and UN Secretary-General Ban Ki-moon have called for a peaceful, orderly and transparent election.
"We encourage all registered voters to make their voices heard by casting their ballot, and doing so peacefully," the US embassy in the Senegalese capital Dakar said in a statement Friday.
Washington has suspended crucial economic and military aid to the country pending greater commitment to army reforms.
A two-week election campaign ended Friday with several rallies in a carnival-like atmosphere in the capital.
Soldiers and paramilitary troops were the first to vote on Thursday, three days before the rest of the country, so as to be available should trouble arise.
Despite a peaceful three-week election campaign, some fear violence or military intervention if the army does not approve of the winning candidate.
Guinea-Bissau is the only west African nation to have achieved independence through military force, and since 1974, the army and state have been in constant, often deadly, competition.
This has lead to chronic instability and a dysfunctional state which, with its porous coastline and archipelago of islands, provided fertile ground for Latin American drug lords looking for a hub to ship their cocaine to Europe.
Guinea-Bissau has never had an elected president finish his term in office.
The National Elections Commission said the vote concerned some 4,400 members of the armed forces out of a total 579,000 registered voters.
Balloting starts at 7:00 am (0700 GMT) and is scheduled to end at 7:00 pm.