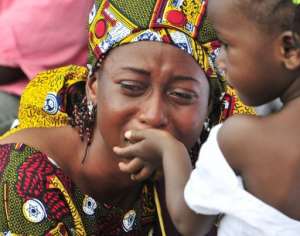 ABIDJAN (AFP) - Ivory Coast in a ceremony on Saturday started a month of mourning and "purification" after post-election violence a year ago left about 3,000 people dead.
The turmoil and bloodshed in the west African nation started after former president Laurent Gbagbo was defeated by Alassane Ouattara in a November 2010 election but clung to power.
Ouattara finally took over in April last year with the support of UN and French forces. Gbagbo is now jailed at the International Criminal Court in The Hague and faces four counts of crimes against humanity.
At the ceremony Saturday, thousands of people joined the festivities, presided over by the head of the country's dialogue, truth and reconciliation commission, former prime minister Charles Konan Banny.
Traditional chiefs and religious leaders, both Christian and Muslim, called on people to mourn the victims of the fighting and for national "purification", evoking the traditions of Ivorian communities.
"It's good to be together," said Banny, kneeling on the podium in a sign of repentance, to the applause of the crowd. "It is better to be reconciled to live in a land of peace."
He urged the country to "turn its back on violence" and vowed: "Never again in Ivory Coast!" Acknowledging lingering scepticim between the rival camps, he said Ivorians must "convince each other to reconcile".
The commission, launched last September by Ouattara, has drawn public, media and politicians' criticism for its slow pace. The body is tasked with setting up local committees and holding public hearings in coming months.