MTN Ghana provides classroom block for Obeyeyie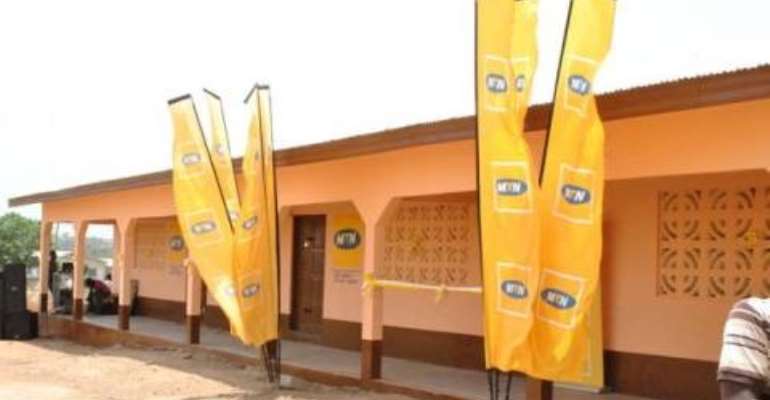 The MTN Ghana Foundation has commissioned a four unit classroom block, office and store for the Obeyeyie Anglican Basic School in the Ga-West District of Amasaman in the Greater Accra region.
The facility, which was constructed at the cost of GH¢57,781.00 upon a request by the Jonata Foundation, is to make quality education accessible to the Obeyeyie community and its environs.
The classroom block will help put at least three hundred and twenty (320) more children in school and thereby reduce the increasing rate of absenteeism, school dropouts, child labour and trafficking, and other vices in and around the community.
A statement from MTN quoted Foundation board member, Nabila Williams as saying MTN recognises that making quality education accessible to all cannot be achieved singlehandedly by government but through collaborative efforts with individuals and corporate entities.
"That is why as a conscientious corporate citizen we continue to support national efforts at bringing quality education closer to our communities – we believe our continuous investments in the country's educational sector will help raise educational standards across the country and ensure that there is equity in development," he said.
He therefore encouraged parents and guardians to enrol their wards in the school so as to optimise the benefits of the facility to secure a good future for their children.
The statement also quoted the Municipal Education Director, Mr. Budu Aseidu as saying "education thrives in a conducive environment - with this support from MTN, we hope to turn this school into a full basic school to enable it cater for pupils from Kindergarten to JSS level".
Ga West Municipal Chief Executive, Nii Armah Tackie also said in a speech read on his behalf that "education is the most worthy form of investment. This contribution of yours is going to help raise future leaders in the community as they are moved from the doldrums into a better way of life"
Jonata Foundation expressed gratitude to MTN on behalf of the people of Obeyeyie.
MTN Ghana Foundation has since 2007, spent over GH¢4.7million in the provision of educational facilities such as classroom blocks, teaching and learning materials, and facilities throughout the country. The most recent of these facilities include a modern library facility for the Tsito Senior High Technical School and a 3-unit classroom block for the Akatsi ARS Basic School.
MTN is currently supporting the Akropong School for the Blind with a 16-unit dormitory block with 20 desktops for ICT laboratory and a 33 sitter Coaster School bus and 10 ICT Centres of Learning in all the 10 regions in the country.


Story by Adom News/Ghana