Ghanaians asked to help reduce carnage on the roads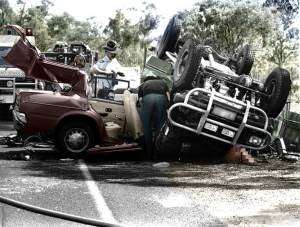 Accra March 16, GNA - Mr David Adonteng of the National Road Safety Commission has appealed to Ghanaians to collectively help to reduce the carnage on the roads.
He said over 400 million dollars is lost through road accidents each year and over 2,000 people die annually.
Mr Adonteng said this in a paper he presented on road safety situation in Ghana at a day's stakeholders' workshop on the Draft National Road Safety Authority Bill in Accra on Wednesday.
It was organized by the Road Safety Advocacy Consortium made up of Ghana National Association of Passengers (GHANAPASS), Ghana Institute of Engineers and Consumer Protection Agency.
The workshop was attended by members of the Parliamentary Select Committee on transport and was sponsored by BUSAC Fund.
Mr Adonteng said 95 percent of the road carnage is attributed to indiscipline on the part of drivers.
He said the government was doing its best to reduce road accidents and urged individuals to also contribute their quota towards that by adhering to Road Safety Regulations and Rules.
Mr Kwame Kondua Atuahene, a representative of the Ghana Bar Association, said a campaign is going on to make the government to change the Road Safety Commission to Authority.
Mr John Opoku, a legal practitioner and a consultant to the Consortium, took participants through the proposed National Road Safety Authority Bill.
He said if the bill is passed, it would empower the Authority to provide facilities to improve the monitoring and evaluation of road Safety measure in the country.
Mr Michael Boampong, Chairman of the Parliamentary Select Committee on Transport and who chaired the workshop, expressed his appreciation to the organizers of the workshop.
Mr Boampong, the Member of Parliament for Bia Constituency, expressed the hope that members of parliament would do their best to ensure passage of the bill.
GNA