PPP clears major hurdle to contest December polls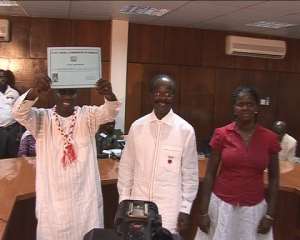 PPP Interim National Sec., Kofi Asamoah Siaw displaying the certificate from the EC.
The Progressive People's Party (PPP) Thursday afternoon became the country's seventeenth political party after it was given the final certificate to formally operate as a political party by the Electoral Commission.
Speaking at a brief ceremony to present the certificate to the party, a Commissioner at the EC, Rebecca Kabukie Adjalo urged the PPP to abide by the rules governing elections as well as Act 574 which states the responsibilities and obligations of political parties to the EC.
Quoting sections of the electoral law, the Commissioner indicated that within 90 days of the issuance of the final certificate political parties must declare their assets to the EC, as well as furnish the Commission with information on the location of the party's offices at the constituency and national levels.
She further cautioned that failure to abide by the electoral regulations will lead to revocation of the party's certificate.
Deputy Chairman in charge of Operations at the EC, Sarfo Kantanka reminded the PPP of the need to observe the timelines stipulated in the electoral regulations and ensure that they meet them especially if the party intends to contest the December 7 polls.
Interim leader of the party, Dr. Papa Kwesi Nduom assured the EC of the PPP's preparedness to abide by the electoral laws as well as contest the December elections.
"We have every intention to comply fully with all the requirements of the law" Dr. Nduom said adding that "it's not a matter of complying with the law but it's about doing something honourable."
Dr. Nduom indicated the PPP will "conduct ourselves properly, in decency and respectfully" since "we want to protect the integrity of the elections."
He also assured the EC that unlike other political parties which go into hibernation after every election year, the PPP "will bit just be in the newspapers...we will be on the ground."