Don't use my name to publicise your rally – Rawlings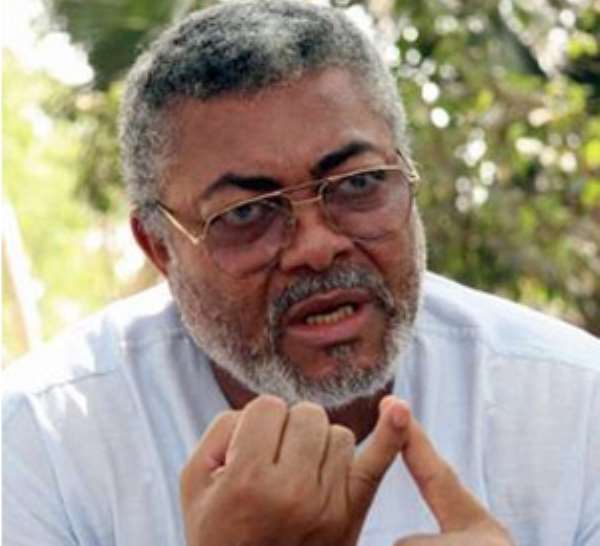 Former President Jerry Rawlings
The former President, Jerry John Rawlings, has confirmed that the party he founded, National Democratic Congress (NDC), has sidelined him and his wife with regards to this Saturday's rally at James Town in Accra.
His wife Nana Konadu Agyemang Rawlings broke the news to The Finder newspaper on Wednesday that she knows next to nothing about the rally.
In a statement to the media on Thursday, the Office of the former President has warned the party to refrain from using their names to court party supporters to the rally since they have been ignored in the whole process.
The statement said the Office has 'noted with concern a creeping culture of using the name of the former President to publicise events, particularly NDC related event when he has not been invited or confirmed attendance.'
It added: 'We have taken particular note of extensive publicity on the forthcoming rally of the Greater Accra Regional NDC at Mantse Agboena in which the media has been erroneously informed that President and Mrs. Rawlings have been invited to the attend.'
'This office wishes to inform the general public that it has received no invitation on behalf of President Rawlings. The only communication we have received from the Greater Accra NDC in the past few weeks is a letter dated February 21 and received on February 24 which requests the former President to grant audience to the Regional Secretariat to introduce parliamentary candidates for the 2012 elections. No mention is made of any rally in the said letter,' it stated.
'We wish to state that there are clear procedures for inviting President and Mrs. Rawlings to events. Individuals or organisations are required to send formal invitations in writing or seek audience to present their requests. None of the above has been brought to the attention of this office as far as the rally at Mantse Agboena on March 17 is concerned.
'Once an invitation is received President and Mrs. Rawlings reserve the right to accept or turn down the invitation and it is only then, can the organisers choose to publicise their attendance,' it concluded.