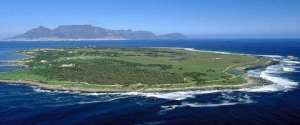 The Robben Island Museum is centred round the notorious political prison where many of the leaders of the South African freedom struggle were imprisoned. The museum on Robben Island is now a symbol of liberation from oppression and was declared a World Heritage Site in 1999.
The Robben Island Museum, in what was once a political prison, is now a 'cultural and conservation showcase for the new South African democracy' - an international icon of the triumph of good over evil. Declared a World Heritage Site in 1999, it is where Nelson Mandela and other anti-apartheid activists were incarcerated.
This bean-shaped island, the largest in South African waters, is situated in Table Bay with superb views of Cape Town 9 km away. Its high point is only 30 metres above sea level at Minto Hill, atop which is the oldest lighthouse in the southern hemisphere.
At this museum on Robben Island, you learn that the first recorded landing on it was in 1498 when Vasco da Gama's support fleet took temporary refuge in its waters. Its situation also made it ideal as a place of quarantine and during much of the later British occupation it was used as a leper colony.
But it is as a place of banishment and exile that it is notorious. Miscreant sailors were offloaded here, as were Muslim activists fighting Dutch colonisation in the Far East. The British, after taking permanent occupation at the beginning of the 19th century, continued this tradition by banishing troublesome traditional leaders opposing settler incursion into the interior.
And in 1960 the apartheid government used the newly constructed maximum security section as a political prison, which is now the museum. Prisoners were subject to hard labour and brutality, but few were broken and the tale of their experience is today symbolic of the triumph of ordinary people over an extraordinary crime against humanity.
The Robben Island historical museum is now a heritage site and tours leave from the Nelson Mandela Gateway at the V&A Waterfront in Cape Town. The tour include a boat trip across Table Bay, a visit to the Robben Island Museum and a 45-minute bus tour of the island.