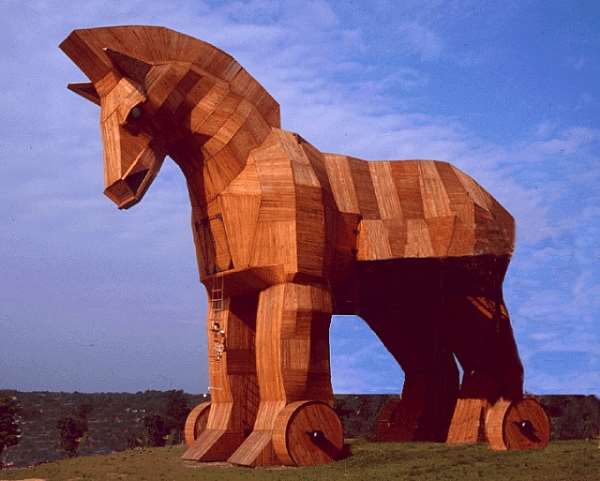 Ladies and gentlemen, the NDCs have produced another faceless, foul-mouth and insulting ghost writer this time again for the impending election. In 2008 election any drastic and comprehensive observer who waded through the forest of articles and merticulously navigated acrossed the ocean of the write-ups in both Ghanaweb and modernghana.com, might have conspicuously and vividly remembered the ghost writer, an unkempt and uncouth hidden being with a self-style fanti name EKua Kwansema.
This insulting-freak and hyper sycopath, man-assumed a woman name, unwarrantedly appeared among the write-ups of the modern ghana article contributers and her mission from NDC half-baked intellectual terrorist camp was to pour hell snakes and dragon fire from her nose against the NPP collosus to the joy of Atta Mills and his clanish cliques.
Anybody can now go straight to the modern ghana articles archives and make a fresh discovery if you have forgotten of that supposedly Ekua Kwansema, the lickspittle and a minion and her article full of toilets and claptraps. Her articles of unparallel diatribes and unethically postures against any NPP official she set her demonic eyes on, gained her much notoriety and aberration from most of the reading public with a sound judgement, but she fizzled and vanished into the thin air immediately after the 2008 elections .
Now here we are again, as the 2012 election is gradually drawing to a close another NDC weakmineded crook has burst into the scene with a metamophorsed hidden identity from a coward spineless lizard to a fire spitting satanic dragon to continue the barbarism and dabolic words of war that Ekua Kwansema, the dementia, left off in the 2008. And this supposedly, a lady who lacks ladyish integrity and ethics as well as academic and social rectitude, yet posing like an intellectual who is suffering from analytically deficiency syndrome, if not mental menopause is called Margaret Jackson of NDC shame.
I want the readership to bear in mind, and not be deceived by the NDC polytricks machinery that this Margaret Jackson, with a blood thirsty and insulting spirit like a carnibal if not a vampire, looking for flesh and blood, is not a female but a male like that of Ekua kwansema and with the same mission as that of the latter, is a cassandra and a muckraking who the NDC's have surreptitiously crafted into the public scene for the purpose of the forth coming elections to play their elementary political psychology of pull them down and rule in the minds of the voting public. That is why all her writings, invariably are nothing constructive to the nation, but full of venom, jihadist and terrorist tactics. I challenge the sincerity of this Margaret Jackson that if she is truly a woman worth her salt, to prove to the readers by adding her picture and few lines of her background to acertain to the readership this is the brave NDC jihadist.

The NPP luminaries that Maragaret Jackson has gone amok and berserk in her schizophrenic and sociopathic posture to rain insult and bullish platitudes on them are seen in public, so any dunderhead and underling like Ekua Kwansema turned Margaret Jackson can pick on them at will. So Margaret Jackson, the public want to see you, if you are divorced, that is why you are transfering your marriage shipwreck and pain on other distinguished people, or a successfully married, and who is your husband and where are your children. In a nutshell how successfull are you to have the temerity, effrontery and impudence to insult impeccable political leaders, and if you too are not just once a banal Accra kenkey call girl or a street woman but comparatively classy than those you are hiding and picking on, then we will rest our case . Margaret Jackson's penchant and proclivity of insulting the NPP topshot particularly Akuffo Addo and ex-president kuffour portrays and depicts a delusional grandeur, megalomania, and mental impairement of her childhood background. And not mentioning the fact that she might have been raised from homeless environment, without any parental care and good upbringing, infact a delinquent graduated to be a hoodlum and catatonia.
As a matter of fact child psychologists mince no words to highlight on the naked fact that children from such background grow up to exhibit the same madness and disrespect against the elderly just like Margaret Jackson's apoplectic and acebic attacks in the media against the NPP supremos. Just a few days ago she wrote an article calling Kuffour a campaign manager of Akuffo Addo. But I dont know which school this shameless punk and jerk Margaret Jackson went, because she is so superficially in every thing she analyse about the NPP gurus. Didnt she do any little comparative analysis at school? If ex-president campaigns in support of his presidential candidate is viewed as a demeaning stance of an ex- president, then how demeaned, debased and illegitimately noisy ex-president Rawlings was.

To all intents and purposes, lets face it, had it not been the vociferous and voracious campaign of Rawlings coupled with his booming charisma, like Atta Mills would have lost the 2008 election pants down. And even as of now rumours has it that some NDC gurus are running helter skelter behind the scene to reconcile the bad blood between Rawlings and Atta Mills in order to enable the NDC to lure J.J to once again be humiliatingly re-instated as an indefatigably campaign manager for Atta Mills. ( As the akans will epheumistically put it Simpa panyin) Is Margaret Jackson sleeping and she is not aware of what is going on in her own camp of political tricksters and boneheads?. she is also dehydrated and bereft of simple knowledge of how other renowned ex presidents had campaigned for their succeeding presidential candidates. Margaret Jackson listen, when ex President Clinton was leaving the scene and Algore was the democrats presidential candidate, ex president Clinton campaigned vigorously for him.
The same applied to Obama in 2008 both Mr and Mrs Clinton campaigned wildly for Obama. In 1999 when Mandela, the most outstanding and illustrious African president felt that age was not on his side (Not the disappointing ones like Mugaby of Zimbabwe and Abdoulaye Wade of Senegal) and left the seat for Thabo Mbeki as a presidential candidate of ANC, Mandela Campaigned for him. Did that devalue Mandela's qualitative leadership? But rather, it demonstrated what in leadership term as servant leadership. In Brazil, the present President, Dilma Reusseff ( A Lady) was hugely campaigned for by her predeccessor, ex. president Lula Da Silva during the 2011 presidential election, and therefore because of the good works of Silva, she won hands down. So Margaret Jackson, the NDC trojan horse what is your tooth ache if Kuffour Campaigned for Nana Addo, or is Margaret Jackson suffering from Idioglossia? Your Much stentorian sophomorical insults and neophytic display at modern ghana site is nothing better than madness, and you are dismissed in expletives. Listen to what Benjamin Franklin said " In yourself look for the vices but in others look for their virtues."

Here she comes again, Margaret Jackson's latest article, a terrorist attack on Ursula Owusu, calling her the queen mother of foul mouth with acid tongue that spews a lot of gibberish into the air. But one thing that I am at a great loss to understand is why should a pot lift a crescendo voice against the kettle that she is black?. Maragaret Jackson has sold her conscience for a mess of pottage and quickly castigating others of their supposedly vices but she has no fragement of virtue and decorum to show. What is wrong with her head? a lunatic or suffering from mental instability, reasoning impotence or mysogynism? Simply put, what Margaret Jackson, the ghost is finding fault with other people, is it not the same madness she is demonstrating on modern ghana pages ? This is an anathem and intellectual prostitution.

Comparing her description of Ursula, can the readership unequivocally describe her as the Satans' mother herself, who is too coward and hiding and spewing virus, poisonous toxic waste full of virulent, scurrilous and vulgar attack without any sense of decency or shame and therefore suffocating the well meaning reading public?. If Margaret Jackson, the hidden chicken is a woman of virtue than Ursula Owusu or any of the personalities she is spewing dragon fire on them, she should be bold and come out and let the public judge. I like the boldness and frankness of Ursula, she does not hide behind ink and paper and talk like this stinking stench Margaret Jackson is disturbing our nose with. Mud-slingers stand conspiscuously in a big arena and throw at each other, so come out if you are not a weakling and destitude of decency and morality.
The rate at which the former NDC's Ekua Kwansema turned Margaret Jackson is spreading her articles of insults and vituperation at ghana.com on NPP bigwig, Iam sure she is harbouring a lot of bitterness and resentment against such gracious personalites. But let me tell her what one of the greatest African statesman, in the person of one and only Nelson Mandela said " bitterness is like drinking a poison so that the other person dies, which eventually kills you instead". So Margaret Jackson, the "Samaritan woman", one of these days your heart will call for mending. So beware of your NDC "patapaa" style and the terrorist stance you have taken. It will serve you no good.
A CRUSADER WITHOUT VIOLENCE.
EKOW WILSON-BAIDOO