Achimota-Ofankor Road To Open To Traffic In May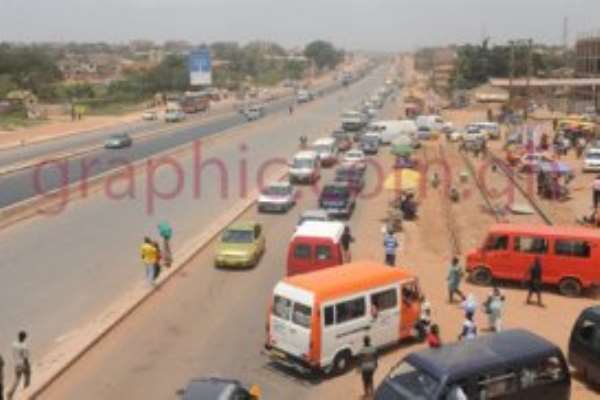 The completion of the road will ease congestion and enhance vehicular movement
All sections of the Achimota-Ofankor Road will be completed and opened to traffic in May this year.
The opening of the 5.7-kilometre, three-lane dual carriageway with three interchanges and service roads is expected to enhance driving on the corridor and significantly reduce the 'go-slow' that keeps motorists in traffic for hours.
The Resident Engineer on the project, Mr Shelter Yao Lotsu, said 91.6 per cent of the major works had been completed, adding that "all sections of the road will be opened, the main carriageway, as well as the service roads".
He, however, stated that the contractor, Messrs China Railway Wuju (Group) Corporation, had requested for a four-month extension to enable it to complete a storm drain and a footbridge at the Taifa Junction.
Mr Lotsu said that had become necessary following a difficulty the contractor encountered with the foundation works of the footbridge.
"The foundation of that footbridge has consequently been redesigned and is currently under construction," he stated.
The storm drain was to help reduce the perennial flooding at Taifa and its environs, he said, adding that work on both the footbridge and the storm drain would be completed in September this year.
Work on the Achimota-Ofankor Road project started on November 15, 2006 and was originally scheduled for completion by November 15, 2009.
Due to some variations to the project, the completion date was revised, first to May 15, 2011 and finally to May 15, 2012.
The project forms part of the southern part of the urban section of the dualisation of the Accra-Kumasi Road, also referred to as N6.
It starts from the Neoplan Junction in the south and ends at the Ofankor Barrier in the north.
Wholly funded by the government, the project has suffered a series of delays as a result of the increased scope of work and delay in payments.
When completed, the road will have four footbridges, bicycle lanes and pedestrian walkways, as well as several lay-bys along the service roads, especially for commercial motorists to load and offload passengers.
The works also include street lighting, the provision of road furniture (road line markings and road signs) and a weighbridge station at Dobro, near Nsawam.
Mr Lotsu was optimistic of the works, estimated to cost GH¢31,307,27, being completed in less than three months.
"We are receiving regular payments from the government now and we are happy about it," the Project Manger, Mr Huang Song, said in an interview with the DAILY GRAPHIC.
Mr Huang expressed the hope that the payments would continue to be regular even as the projects neared completion.
He said the contractor was currently fighting for space with wood market activities and pleaded that those activities be removed immediately to ensure that work moved on as planned.
He consequently appealed to the Ga West Municipal Assembly to relocate the wood markets at Moose and Ofankor to pave way for work to progress.