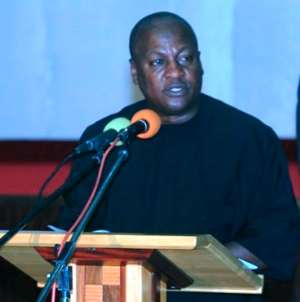 Accra, March 12, GNA- Vice President John Dramani Mahama on Monday announced that government in collaboration with the World Bank had established the Ghana Commercial Agricultural Project as the springboard for poverty alleviation. He said the project would also provide the opportunity for farmers to produce raw materials to feed domestic industries and other internal agro-businesses.
Vice President Mahama announced this when he commissioned a GH¢ 2 million brewing plant to produce Chibuku, a locally produced beer. The Chibuku brewery, which started on trial basis two years ago from its mother plant in South Africa would serve both the domestic and external markets.
Vice President Mahama said government would use a significant amount of money from the Chinese loan facility to irrigate 11,000 hectares of the Accra plains to step up agricultural production. He commended the ABL for using local ingredients, which would provide jobs for over 7,000 maize and sorghum farmers in the three northern regions and parts of the Brong Ahafo and Volta Regions.
Mr Mark Bowman, Managing Director for the South African Brewery Millers in-charge of Africa, gave the assurance that the plant would empower subsistence farmers to step up the production to commercial levels to keep the brewery operational and to sustain their jobs. He said his outfit would continue to roll out new products that would create more jobs for Ghanaians and to provide quality alternative beverage products for consumers.
Mr Greg Metcalf, Managing Director of ABL, said the Chibuku would soon come out with satchet products to make it affordable for all categories of consumers.
GNA