Statement: Betty Mould's role in €94 judgement debt to CP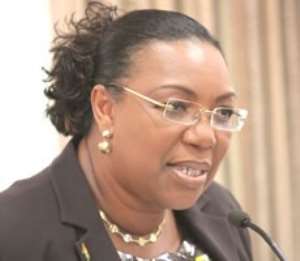 PRESS STATEMENT ON BEHALF OF MRS. BETTY MOULD IDDRISU - FORMER ATTORNEY GENERAL AND MINISTER FOR JUSTICE/ MINISTER FOR EDUCATION.
We act for the former Attorney General and Minister for Justice and until recently the Minister for Education, Mrs. Betty Mould Iddrisu.
Our client refutes current media speculations that she may have acted improperly in the debt payment to CP Construction in the sum of € 94million, a matter currently being examined by the Public Accounts Committee (PAC) of Parliament.
Our client states that she acted at all material times in this matter in her capacity as Attorney General and on the advice and recommendations of lawfully, constituted public officials and institutions.
Decisions were arrived at on recommendations from the Civil Division of the Attorney General's Department acting on the advice of accredited external foreign legal advisors who were already handling the C.P Construction brief at the International Chamber of Commerce (Arbitral Division) when she entered office as Attorney General in February 2009.
PAYMENT OF €13.1 MILLION
Following a critical meeting on 28th and 29th May 2009 in Accra, between Government Of Ghana and C.P Construction, a major breakthrough was made in the long standing negotiations of all C.P Construction claims against Government Of Ghana amounting to nearly € 162 Million. The two negotiating parties eventually settled on a figure of € 94 million after much wrangling.
Based on the advice of a Government Of Ghana committee, which included representatives from the Attorney General's Department, Ministry of Transport and Ministry of Finance, and in the face of outstanding undisputed verified Certificates for works done as well as earlier documented admission of liability and recommendations for payment made by her predecessor, Mr. Joe Ghartey (former Attorney General) and Dr. Richard Anane the former Minister for Roads and Transport, our client endorsed recommendations for the payment of the amount of €13,165,403.13 to C.P Construction as evidence of Government of Ghana's commitment to the settlement arrangement. Based on this payment, CP Construction agreed to Government of Ghana's request for the balance of € 80 million to be spread over a period of 3years. C.P Construction by this Settlement Agreement was also to stay enforcement and execution of the awards obtained at the International Chamber of Commerce and to freeze interest that may be due from a stated date.
The advance payment was therefore necessary to stay threatened execution proceedings from December 2008 arising out of a second award obtained by CP Construction and entered against Government Of Ghana by the International Chamber of Commerce in late 2008. Some of the debts had remained unpaid and undisputed for well over 20 years. Ghana's non payment gave rise to actions by which Government of Ghana's properties were being attached in execution of judgement all over Europe including Belgium, France, England as well as Ghana 's United Nations Account in United States of America. This account includes payments received for Ghana's Peacekeeping Missions.
In an earlier case of defiance and non-payment of a related debt owed to CP Construction in respect of completed works in Obuasi Township, Ghana Cocoa Board assets in London were attached in execution on 2nd June 2008. The same was released only after Mr. Joe Ghartey, our clients' predecessor-in title, had recommended and the then Ministry of Finance had paid the sum of over Seven Million Pounds Sterling (£7 million) on or about the 13th of June 2008 to CP Construction to cover the outstanding indebtedness for completed works in Obuasi Township.
Mrs. Betty Mould Iddrisu states for the avoidance of doubt that it is one of the functions of the Attorney General's Department to receive and advise on judgments obtained against the Republic and to advise settlement where necessary. In any case, as per section 48(1) of the Code of Ethics of the Ghana Bar Association "it is the duty of a Lawyer to advice his Client to avoid or terminate litigation whenever the controversy would admit for fair settlement…" Indeed, a Lawyer commits misconduct if he fails to take an available opportunity in the clients' interest by fair settlement out of Court instead of engaging in legal proceedings.
The former Attorney General states that she had written Executive approval to negotiate this judgment debt among others.
She finds it distressing and unfortunate that some key officers who participated in this negotiation at various times are out of office while some of those who are still at post appear to be overly reticent and not forthcoming with explanation and or accepting legitimate roles played by them for whatever reason they may have.
For instance, the Settlement Agreement of 18/3/10 signed between Government of Ghana and CP Construction is being challenged as being fraudulent and unprofessional since a document (Final Award-Award by Consent) attached to the Settlement Agreement purportedly emanating from the Court of Arbitration of the International Chamber of Commerce, is not signed by the arbitrator, nor does it bear a suit number of the International Chamber of Commerce and same is undated.
The simple truth is that the document is yet to be filed at the International Chamber of Commerce. The document indeed as per the Settlement Agreement, Section 2(B) and Section 9 thereof is only a draft which may be signed, dated and filed at the International Chamber of Commerce upon default by Government of Ghana. Government of Ghana has not as yet defaulted in payment of the payment schedule. This legal mechanism is one which is well established in settlement agreements and we are confident that close scrutiny by competent lawyers will bear this interpretation out.
The former Attorney General is obviously constrained by her Oath of office and her respect for the established Order to maintain her silence even in the face of baseless, untested, unwarranted and hasty conclusions and allegations against the role she played in resolving a case that spans over thirty years and involves multiple Attorney Generals, several public officers, public institutions, international tribunals and jurists.
Our client acted prudently in securing a timely negotiation of the CP Construction claim of nearly €162 million down to €94 million and spreading the balance over three years, mindful of the fact that Government of Ghana's indebtedness, was in fact attracting a whooping interest of about €12,700.00 a day from as far back as October 2002 when certified works done by C.P Construction were jointly accepted as being due and owing as borne out by letters duly authored by senior Government officials including the then Minister for Transport, Dr Richard Anane .
Various allegations of fraud on the part of CP Construction could not be established both at the International arbitration and in Ghana. Indeed the Serious Fraud Office in Ghana had closed the docket as unproven.
Our client also denies allegations that she ordered a remission of taxes due the State from C.P Construction. Our client states that she was unaware of any tax due from C.P Construction and in any case under the Financial Administration Act, Act 65 (16(3) she was not the paying officer.
The former AG denies any wrong doing during her tenure as Attorney General and in particular her role as Attorney General in the settlement of claims raised against the Government of Ghana by C.P Construction.
The former Attorney General states that at all material times she acted professionally to protect the image of Ghana internationally and in the best interest of the State. She believes that her true role in these matters will be established in the fullness of time.
DATED THIS 12TH DAY OF MARCH 2012.
………………………………………………………………….
NANA ATO DADZIE ESQ.
(DADZIE&ASSOCIATES)
(SOLICITORS FOR MRS. BETTY MOULD IDDRISU)