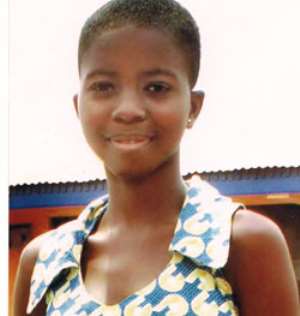 Goni Etornam
Information reaching  DAILY GUIDE  indicates that the 14-year-old JHS one pupil, Etornam Gorni, who died about a fourth night ago during a parade rehearsal for the Volta regional 6th March Parade in Ho, will be laid to rest tomorrow, Tuesday March 13, 2012.
This was gathered from sources close to the girl's school, the Ho Fiave Seventh Day Adventist (SDA) Church school, and her family.
According to the sources, the body of Etornam would be received today by students in the Ho Municipality at the RTC Park and guarded in a long procession to the Volta Regional Police Training School, fondly called Police Depot.
Apparently, that is where Etornam's family lives since the father is a policeman.  
This will be followed by a wake keeping that night. Then on Tuesday, there will be a burial service at the Police Depot.
 Her body will be laid to rest at Gornikofe, about five kilometres from Ziope in the Adaklu Anyigbe District.
 The burial service is expected to be attended by all schools within the Ho municipality, officials of the Volta Regional Coordinating Council (VRCC), the Ghana Education Service and other top government officials. 
When contacted, the Deputy Volta Regional Minister, Henry Ametefe, confirmed the date of the burial, but noted that a delegation from the VRCC would be sent to the bereaved family for final discussions and preparations.
 He assured the family that the VRCC would bear the full cost of the funeral. 
Mr. Ametefe said the death of the girl was a national loss since she could have become a great person in future.
DAILY GUIDE  also gathered that a remembrance service in honour of Etornam was held at the SDA Junior High School last Friday. The service was attended by her parents and some family members, representatives from the Ghana Education Service and other sympathizers.  
At the 6th March parade last Tuesday, a minute's silence was observed in her honour.
Her mates, who were clad in red arm and head bands, also shed tears as they marched past a crowd at the Jubilee Park in Ho. They noted that their march was in honour of their departed colleague.
From Fred Duodu, Ho