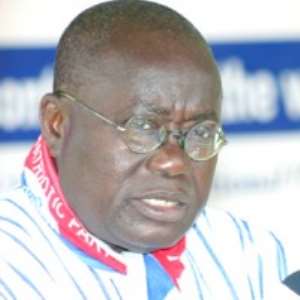 It is hard to gauge the motive behind Stephen Sackur's condescending badgering of Nana Addo Dankwa Akufo-Addo at one point during the latter's interview on BBC a few days ago. Was it because Sackur thought he was still a representative of the Colonial government, as if we were in the Gold Coast? Or he thought he was interviewing a Council man from Birmingham. Or he found it incredulous that an African country could afford to undertake the noble path of ensuring free pre-university education for her children?
At some point during the interview, the host of "HardTalk," had wanted Nana Addo, the opposition leader of a sovereign state, to state the exact cost of his campaign signature policy, the free SHS education. Though the question was a legitimate one, Nana Addo's sense of sovereignty disallowed him to share his topmost plan or lay down all his cards before a foreign journalist on a foreign soil. The platform was simply wrong.
When Sackur disrespectfully insisted, Nana diplomatically and politely, "laid the smack down" by replying that he would have to share such a monumental announcement with his countrymen first. End of story. Remember Boris Nemtsov?
Locally, the ruling government looking for a reprieve from the Woyome historic corruption sought to reinterpret Nana's right to or not to answer every question in detail as a sign of a "flop." But Nana's performance and reluctance to blurt out everything on his mind to an "imperial journalist" should serve as a lesson to all public officials and aspiring politicians.
As we aware, our officials and opinion leaders in the past have not avail themselves in the proper manner in their encounters with "Obroni agents." Take Wikileaks for example. From the then candidate Mills' "Ashanti Project" and "my people are narcotically compromised" to current deputy minister and MP aspirant Fifi Kwetey's "no Moslem can be president"; from former deputy minister Baba Jamal's "Mills has cancer" to Pratt's' gossips about Nana; these leaders of society disgraced themselves and country when they came into contact with foreigners.
But Ghanaians must simply understand that not every question asked, especially by the "Obroni" deserves an answer or to his satisfaction-not even for a pot of gold. Interviews are voluntary just as questions answered, depending on time and place. With the whole world watching and the presidency virtually on the line, Nana could have acquiesced to Sackur's badgering like a Gold Coast clerk. Yet Nana upheld sovereignty and that is the lesson Ghanaians should learn from this interview.
True to his word, Nana's campaign team, through Professor Gyan Baffuor has revealed to the nation and on a "local station," and to a "local journalist"-Dzifa Bempoe- how much would be needed to fund free SHS. According to Professor Gyan Baffuor, who was a former deputy education minister under Kufuor, if we were to maintain the current 5% of GPD spent on education, it would cost the nation only an additional 0.6% to fund free SHS. After all, as the Professor rightly observed, if we could pay Woyome and others $400m in judgment debts, the nation could certainly afford to bear the cost of free education.
However I doubt if Nana would maintain the reduced percentage under the Mills administration. Without oil, Kufuor was able to spend 7% of GDP on education, so Nana would definitely raise the current 5% to 7% at least, if given the nod. Coupled with the 0.6% for the free SHS, the estimated cost of Nana's "Teacher's First Educational Policy" would be, at least, 7.6% of GDP. This is affordable, achievable and sustainable, folks.
So where are the naysayers? Please stand up.
AFTERWORD
As for the globalized elite libertarians at IMANI, their logistical concerns for the program is a front for their philosophic objections against all social interventions.
Akwasi A.Afrifa Akoto