Tumu Kuoro commends President Mills for his condemnation of homosexuality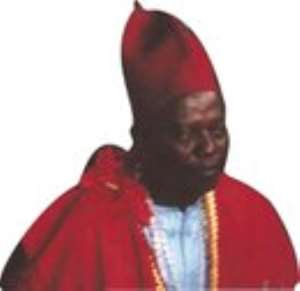 Tumu, March 11, GNA – Kuoro Richard Babini Kanton, Paramount Chief of Tumu, at the weekend commended President John Atta Mills for the strong stance he took despite international pressure to condemn the practice of homosexuality.
He said African cultural values does not accept the practice of homosexuality and called on traditional leaders to ensure that they acted promptly to nib in the bud any such practices in the Ghanaian society.
Kuoro Kanton gave the commendation at a durbar of the chiefs and people of the Tumu Traditional Area at this year's Paari Gbielle Festival in Tumu which was on the theme: "Promoting a peaceful 2012 general election for national development: A collective responsibility."
On the 2012 general election, Kuoro Kanton appealed to politicians to place the interest of Ghana above all other considerations and make sure that political activities were carried out with civility to help sustain the peace in the country.
He also appealed to persons who have attained the voting age of 18 years to register during the upcoming biometric registration exercise to enable them take part in the December 7 polls.
Kuoro Kanton called on government to give due consideration to granting Tumu a Municipal status while it considered the creating of a new district for the people in the Wellembelle area to enhance development.
He said the Tumu Traditional Council lacks office accommodation, which is hampering activities of the council and called on government to help reverse the situation.
Government should also provide the Tumu Township with a dam for domestic use and irrigation purposes.
Kuoro Kanton explained that the only dam that was constructed in 1940s had been silted and no longer holds sufficient water to meet the demands of the growing population.
He applauded government for the ongoing development projects in the Sissala East District, which includes the tarring of the Tumu township roads and the construction of a bridge on River Sissili.
He called on the youth in the area to take advantage of the revamping of the cotton industry in the district to enhance their livelihoods.
Kuoro Kanton urged the government to give equal attention to the sheanut industry, which has a great potential of helping to reduce poverty in the area.
Regarding tourism, Kuoro Kanton mentioned the Kassana Slave Market, Jollum Bun and Wottuomo Slave Defence Settlement sites at Dolibizong and Lilixia, Bujan Bone Setters and many cultural artifacts among other potentials that are yet to be developed to help generate revenue for the area.
GNA