At least three killed in Nigeria church bombing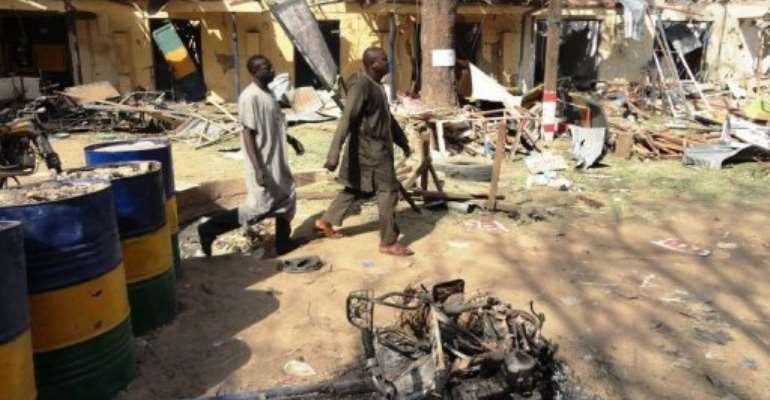 JOS, Nigeria (AFP) - A suicide bomber blew himself up outside a Catholic church in the Nigerian city of Jos on Sunday, killing at least three people attending mass, the emergency services said.
Nigerian President Goodluck Jonathan condemned the bombing and reaffirmed his government's determination "to end the spate of mindless attacks and killings in parts of the country", his office said.
The president "calls on the populace to remain patient and refrain from taking matters into their own hands through actions such as reprisal attacks, as government continues to take the battle to the merchants of terror and close in on their locations, funding and sponsors".
Sunday's incident was the second suicide attack on a church in the flashpoint city in two weeks, after a February 26 attack claimed by Islamic extremist sect Boko Haram killed three people and injured 50 as they attended a Sunday service.
Jos, a faultline in Nigeria's Muslim-Christian divide between north and south, was tense in the aftermath of the bombing amid fears of a reprise of deadly riots which followed last month's attack.
"There are rumours of reprisals from Christian youths, but we hope the security agents are on top of the situation as they have cordoned off the area," said Alhassan Danjuma Aliyu, local chief of the National Emergency Management Agency (NEMA).
Rioting that followed the last bombing killed a further three people, believed to be Muslims.
The bomber on Sunday aimed his speeding car at St Finbar's Catholic church before setting off a large explosion, killing himself and at least three churchgoers, emergency agency spokesman Yushau Shuaib told AFP.
"Three confirmed dead," said Shuaib, adding that several others were in a critical condition and had been removed to hospital.
"We removed only three corpses and a number of injured victims have been evacuated," he said.
Emergency workers feared the death toll would have been higher had the bomber managed to get the vehicle closer to his target. "The bomb exploded before he could get to the church," said Shuaib.
The parish priest at the church, Peter Umoren, told AFP seven parishioners were killed while 12 others were injured in the blast.
"We lost seven church members while 12 were injured and have been taken to the Plateau state specialist hospital and the airforce military hospital for treatment," he said.
He said four suicide bombers, including two that drove the car and two on a motorcycle that escorted the car, were killed.
The bombers crashed their explosives-laden car into the church gate before it exploded.
The blast shattered church windows and cracked the wall, an AFP reporter saw, adding that the engine of the car was detached from its shattered body and flung into the church compound.
Mark Lipdo, who runs a Jos-based Christian Stefanos Foundation, told AFP at least eight people were killed, including three people who were shot by soldiers after the explosion.
He said the soldiers opened fire to disperse a crowd of onlookers who gathered outside the church.
"They shot at people who gathered at the scene, killing three instantly," he said.
Lipdo said three women, one of whom was pregnant, were among the dead.
"It was a horrible sight. The bodies of the victims were mutilated but five of them have been identified by their relations," he said.
His claims could not immediately be verified.
The worst recent attack on a Catholic church was on December 25, when 44 people were killed during a mass to celebrate Christmas in a town outside the capital Abuja.
Jos lies in the so-called middle belt region dividing the mainly Muslim north and predominantly Christian south, and hundreds of people have been killed in clashes between Muslim and Christian ethnic groups in recent years.
Violence blamed on Boko Haram, whose goals remain largely unclear, has since 2009 claimed more than 1,000 lives, including more than 300 this year, according to figures tallied by AFP and rights groups.