Mass funeral for victims of Congo munitions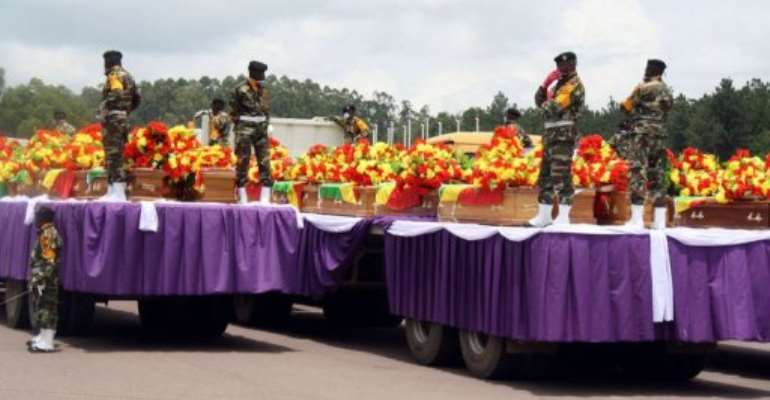 BRAZZAVILLE (AFP) - Thousands of people on Sunday attended a memorial service for the victims of last weekend's munitions dump blasts in the Congo capital, as authorities announced a new death toll of 223.
Medard Milandu, who conducted the service, said 159 of the bodies had so far been identified.
An earlier toll said nearly 200 people were killed and more than 2,300 injured in the explosions, which destroyed hundreds of houses, leaving 14,000 people homeless.
Relatives of the victims took their places in six white tents opposite a pavilion for officials erected on the esplanade outside the Congress Centre in the capital.
The coffins of 145 victims draped in the national flag arrived shortly after 11 am (1000 GMT) transported 10 at a time on lorry trailers.
Families of the victims were in tears, some clutching photos of their dead relatives and crosses bearing their date of birth and death, last Sunday March 4.
On the other side of the avenue separating the esplanade from the foreign ministry building, thousands of people, mostly in black or white, stood behind barriers put up for the ceremony. There were too many people to all find places in the tents in the red, green and yellow of the national flag.
Congolese President Denis Sassou placed a wreath before an ecumenical service and the reading of a funeral oration by the minister of social affairs.
The coffins were then to be taken to the city's main cemetery for burial, where special burial chambers have been dug to receive them.
Sunday's memorial service marked the end of the official period of national mourning decreed last Tuesday.
Last Sunday's blasts, blamed on a short-circuit and fire, destroyed hundreds of homes around the depot. The homeless are being sheltered in reception centres while nearly 300 of the injured are still in hospital.