Osagyefo worth more than symbolic statue- Think tank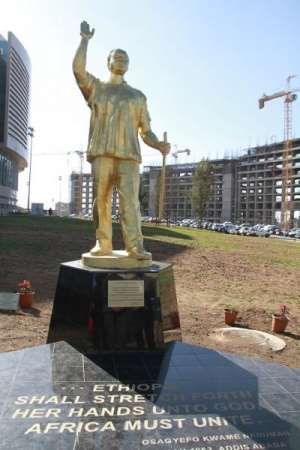 Accra, March 11, GNA – The Council for Afrika International and Afrika Liberation Society, have expressed mixed reaction about the erection of Osagyefo Dr Kwame Nkrumah's statue in front of the new Headquarters of the African Union (AU) in Ethiopia.
The two UK-based think tanks, which hailed the erection of the statue, however noted that it was a contradiction of Osagyefo's ideals of African unification and should be rapidly remedied through a comprehensive radical overhaul.
"It provides a favourable opportunity of historic turning point to catalyse and expedite the African unification and the African total liberation process," Dr Koku Adomdza, President of the two think tanks said in a statement issued and copied to the Ghana News Agency in Accra.
The two bodies urged the AU to speedily and radically transform itself from "a stagnated reformist neo-colonialist institution into a fit-for-purpose revolutionary total continental liberation agency to reconcile itself with the non-dependency, anti-neo-colonialist, African unification ideals of Osagyefo Dr Kwame Nkrumah".
Dr Adomdza, said to be relevant and add value to the African Liberation process, the co-location of an Nkrumah Statue with a modern headquarters of the AU must usher in a completely accentuated change, drastic Africanist orientation in the corporate culture, leadership and environment of the institution.
"The symbolic gesture, risks meaninglessness unless it is linked to the rapid, sustainable, total unification of the African Continent. Equally, the symbolic co-location of the Nkrumah statue remains meaningless unless it is linked to a total transformation of the reformist African Union into a Revolutionary Agency capable of radically unleashing an avalanche of competently-managed, progressive change…," he stressed.
He observed that African Unity is long-overdue, nearly half-a-century since its inception, adding: "The African Union project remains a mirage. We would urge African Unification Now!"
He said Dr Nkrumah was prepared to take risks for his unshakeable belief in justice and in Pan-Africanism.
Dr Adomdza said clarity must be established that African unity cannot be delivered through foreign investment or philanthropy.
He said the African people demand unambiguous guarantees that there are no strings attached to the Chinese funding of the 0 million of the modern AU headquarters.
Dr Adomdza said Osagyefo's statue should jump-start a revolutionary patriotic change agenda with an abiding sense of urgency that is commensurate with the extreme crises that the majority Africans are visibly locked-in.
He said the collective rights, security, welfare and wellbeing of majority of Africans, who are the main stakeholders in Africa, should be diligently served by the continent's ruling elite including the AU, as a high moral imperative and priority above all other interests.
GNA