Police blame Shebab in deadly Nairobi attack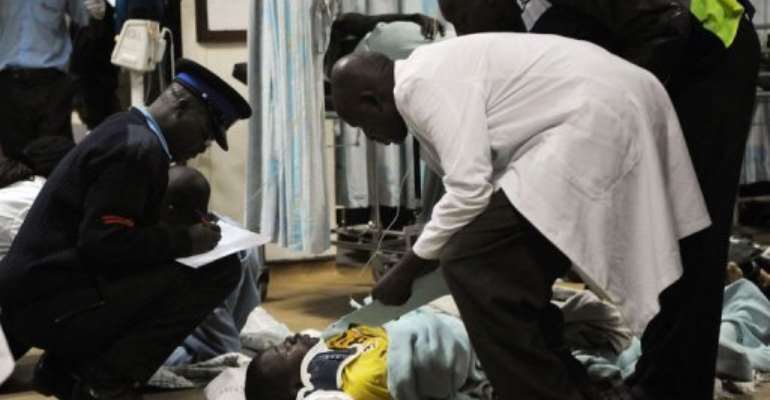 NAIROBI (AFP) - A grenade attack on a Nairobi bus station on Saturday killed at least five people and wounded nearly 60 others, in an assault Kenyan police blamed on the Islamist Shebab militia.
A spokesman at the city's main hospital, Kenyatta National Hospital, said at least seven other people were in a critical condition following the attack, in which witnesses reported seeing grenades thrown from a car.
Kenya's Vice President Kalonzo Musyoka, visiting survivors in hospital called for calm, but insisted would not be defeated.
"We urge for calm and we will definitely win the war against terrorism," he said.
Earlier, police spokesman Charles Owino was equally defiant as he denounced the bloodshed.
"This is a cowardly act by al-Shebab elements," he told reporters at the site of the attack, the busy Machakos country bus station near the city centre.
"But we will not relent in the war. We will get them and we will continue with the war."
Kenyan troops are currently fighting the Shebab in neighbouring Somalia.
This is the deadliest attack in Nairobi since the devastating August 1998 Al-Qaeda bomb attack on the US embassy that killed 213 people and injured 5,000.
Initial reports spoke of three people being killed and more than 20 injured: two people had died at the bus station and a third on the way to hospital.
But later Saturday two others succumbed to their injuries in hospital and the number of injured was revised upwards to 59.
A senior police official who did not want to be named told AFP it was believed several grenades had been thrown at the bus station.
Witness Charles Njenga told AFP: "I just saw a vehicle pass and then someone just threw things that exploded. Many people have been injured.
"I survived because I was in a bus that was still loading people," he added.
Other witnesses spoke of three or four grenades having been thrown in and around the bus station from out of a car.
Traces of blood were still visible on the floor of the bus station, where around 10 buses were still parked, and ambulances were still ferrying the wounded to hospital.
Other, less seriously injured people were being treated on the spot.
About 500 metres (yards) from the bus station, the body of one of the victims, a young man, could be seen was stretched out in front of a petrol station
"I came to get petrol when I saw a man who was running and he collapsed, dead," said motorcyclist Reuben Otela.
"When I got closer, I saw that he was covered in blood, he had fled the explosion," he added.
It is the first such incident in the Kenyan capital since two grenade attacks carried out within 24 hours of each other last October killed one person and injured 30 others.
The first of those attacks targeted a bar in the capital; the second was an attack on a particularly bus stop.
A Kenyan supporter of Somalia's Islamist Shebab fighters was arrested soon afterwards and was convicted after having confessed to the attacks.
No one has so far claimed responsibility for Saturday's killings.
But the Shebab have on several occasions threatened reprisal attacks against Kenya since it sent its troops over the border into southern Somalia in mid-October to fight the group.
Kenya sent its soldiers, backed by planes and helicopters, into Somalia following the abduction of several foreigners on Kenyan soil -- although the Shebab have denied any involvement in the kidnappings.
A month later, in November, Ethiopian troops and tanks entered Somalia to support the Somali transitional government against the Shebab.
Earlier Saturday Shebab fighters launched a major attack lasting several hours against positions held by Ethiopian forces in southwest Somalia.
The battle left many fighters dead, witnesse and military sources on both sides told AFP.
As well as the Ethiopians and the Kenyans, the Shebab fighters are under pressure from an African Union force of Ugandan and Burundian troops, which has forced them out of the Somali capital Mogadishu.
The Kenyan army has since last month been part of the African Union force.