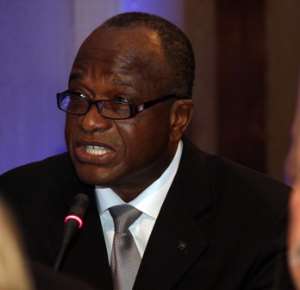 Chirano (W/R), March 10, GNA – Mr Mike Hammah, Minister of Lands and Natural Resources has said it is the intension of Government to establish a National Resettlement Management Planning Committee to ensure that activities of mining companies are strictly regulated to promote speedy socio-economic development.
He said additionally, a Mineral Development Fund would be instituted to mobilize additional financial resources besides the royalties, to undertake development projects to improve the living standards of the people.
Mr Hammah made these known at a separate meeting with officials of Chirano Gold Mines and the chiefs and people of Paboase, Etwebo and Akoti in the Western Region over the weekend.
The Minister together with his counterpart for Environment, Science and Technology, Madam Shirley Ayittey, were at the company to mediate on the impasse between the youth in the communities and officials of the mining company.
The youth have petitioned the government over lack of employment and social infrastructure by the mining company in-spite of the promise made to them before the company was permitted to start operations in the area.
This has led to frequent agitations and occasional confrontations by the youth against the operations of the mine in the area.
Advertisement
The meeting of the Ministers was therefore, to listen to both sides and discuss the issues to find a lasting solution to promote peace and harmonious co-existence in the mining site.
Mr Hammah said government was putting in place effective measures to ensure that mining contributed significantly to the socio-economic development of communities, especially those in mining areas adding that there was the need for mining companies to give most of their support services contracts to local contractors in their operational areas as a means of promoting equity and harmonious relationship.
Madam Shirley Ayitey said there was the need for the Chirano Gold Mine to design innovative ways to give the youth in the area skills training and employment.
She said this will help promote a stable social environment to ensure the sustainability of the operations of the mine.
Mr John Seward, the General Manager of Chirano Gold Mine, said the company has been providing some social intervention programmes for the people in the communities and these included the provision of school and health infrastructures, water and sanitation, skills acquisition and employment for the youth in the area.
Nana Frimpong Manso Ababio, Chief of Paboase, said the company has not fulfilled most of the promises made to the people before it started operations in the area and called on the company to establish vocational training centre for the youth in the area, expand the only clinic in the area and rehabilitate their road network for them.
Nana Frimpong Ababio called on the government to strive to identify the needs and aspirations of the people in a proposed mining area and incorporate them in the terms and agreements to be signed by both sides, before permits are granted to companies to start operations in those areas.
GNA