Man Being Held For Death Of Friend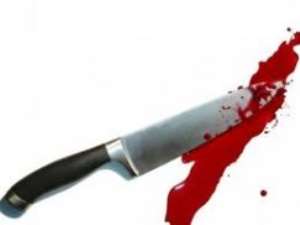 A 33-year-old man, Roland Gbedemah, who allegedly stabbed his friend to death has been remanded in custody by the Ho High Court.
Narrating the facts of the case to the Daily Graphic in Ho on Wednesday, the Ho Municipal Police Commander, Superintendent of Police, Mr Owusu-Berko, said the suspect, in a caution statement, said on Friday, March 2, 2012, he, together with the deceased, Ernest Adzawuda, 40, went to a drinking bar around 8:30 am to take a few shots of local gin after which they proceeded to another joint to top it up with 'Solom', another locally brewed drink similar to 'Pito'.
He said from there, he and Adzawuda went to his (suspect's) house where he cooked and they both ate.
According to the suspect, just as they were finishing with the food, a client of his came with an issue which required that he went with him to the office to sort it out.
According to the suspect, he went and dressed up to go with the client when Adzawuda walked up to him and held him with his unclean hands saying he (suspect) had not given him water to wash his hands after eating.
The suspect said he then showed him a cup that contained water for him to use but he just threw the cup and the water back at him and started hitting him.
The suspect said in his bid to defend himself he picked a broken bottle and stabbed him in the left armpit.
Mr Owusu-Berko said the younger brother of the suspect, Raymond Gbedemah, who lodged a complaint with the police said he was playing behind their house when he heard a noise inside the house.
According to the suspect's brother, when he entered the house, Adzawuda, then alive, told him the suspect had stabbed him with a broken bottle.
The suspect's brother then rushed the deceased to the Volta Regional Hospital but he was pronounced dead on arrival.