Senegal opposition to hold mass rally for Macky Sall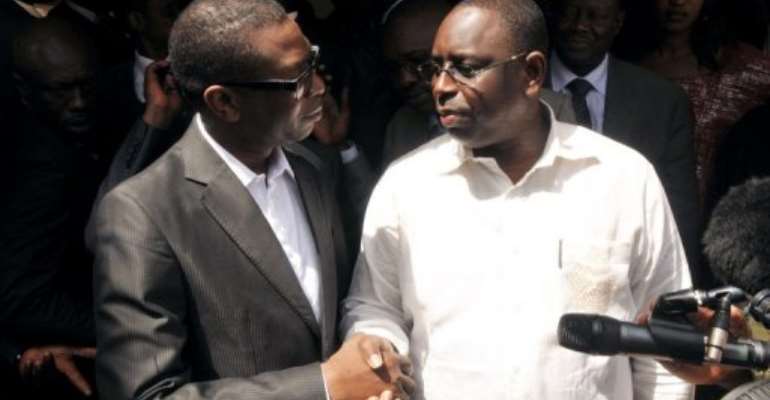 DAKAR (AFP) - Senegal's failed presidential candidates will hold a mass rally Sunday in support of aspirant leader Macky Sall, who they hope will unseat incumbent Abdoulaye Wade in a run-off election on March 25.
The June 23 Movement (M23) of opposition and civil society, who have fiercely opposed Wade's efforts to win a third term in office, will gather to "launch into the electoral campaign", said spokesman Doudou Sarr.
The meeting will take place at Obelisk Square, the site from where a month of violent protests against Wade's candidacy began in the run-up to the February 26 first-round vote.
"All the candidates (beaten in the first round) and M23 leaders are behind Macky Sall," said another M23 leader Cheikh Tidiane Dieye.
This showed the masses were opposed to the 85-year-old incumbent extending his rule, he added.
The opposition accuses Wade of trying to circumvent a two-term limit he himself inserted into the constitution in a bid to cling to power.
Wade says he wants only a few more years to finish his "grand projects" but this is seen as stalling so he can line up his unpopular son Karim to succeed him.
However the country's highest court upheld his argument that a 2008 constitutional amendment altering the term lengths from five to seven years, allowed him another term.
The incumbent is facing a stiff battle for re-election after suffering a setback in the first round election: he scored 34.81 percent and his ex-prime minister Sall 26.58.
That forced him to a run-off poll when he had hoped to win outright in the first round.
Sall, 50, is an engineer contesting his first election. He was once an ally of Wade, serving as prime minister under him and was seen as his successor before a bitter falling out.
After his strong showing in the first round he has won support from the most influential candidates trailing him as the opposition seeks to unseat Wade.
Wade's opponents combined scored more than 60 percent of the votes cast in the first round, a sign of the sharp drop in the president's popularity since he was re-elected in 2007 with 55 percent of the vote.