ER NPP Warns Victor Smith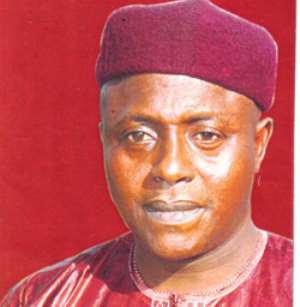 Alhaji Omar Bodinga
THE APPOINTMENT of one-time special assistant to former President Rawlings, Victor Smith as Eastern Regional Minister is being seen by the largest opposition party in the area as an attempt by government to destabilize the region.
The party feels the move is meant to possibly disrupt the general elections in the region starting with the biometric registration exercise.
The Eastern region New Patriotic Party (NPP) believes Victor Smith, who is the ruling NDC's parliamentary candidate for Abuakwa North has been brought in to pursue government's agenda of creating fear among voters and to minimize the NPP's votes in the area, largely seen as a stronghold of the party.
NPP First Regional Vice Chairman, Alhaji Omar Bodinga who said Victor Smith, an outspoken member of the ruling NDC has been creating confusion in the Abuakwa North constituency since he was endorsed the parliamentary candidate, has the tendency to 'preach' vengeance and intimidation in the run-up to the elections in the region.
'We know the political track record of Victor Smith and he must know that the Eastern region is an entirely different terrain altogether,' he said.
According to him, the party will recognize him as the political and administrative head of the region but if he deviates from his duties to pursue any negative political agenda then the NPP will definitely be ready for him.
'We in the NPP respect the position he is coming to occupy but he must play his role as a true father of the region and not try to use the security forces in the region to intimidate his political opponents,' he pointed out stressing the NPP is very much aware of plans by the NDC to create confusion in the Eastern and Ashanti regions which are strongholds of the NPP.
He explained that the Eastern region is indeed a stronghold of the opposition NPP and will continue to be the stronghold of the party. 'The NDC must forget about any intentions to decrease NPP votes and increase their votes in the region,' he added.
'We will like to tell Victor Smith as the new regional minister that he is completely new to the region and we as members of the opposition are solidly on the ground so his intention to win the Abuakwa North seat and help the NDC reduce our votes in the region must be completely shelved because we are very strong on the ground here,' Alhaji Bodinga said.
He assured teeming supporters of the NPP that the party's regional executive members will continue to work hard to increase the party's parliamentary seats from 21 to 25 in the December general elections.
'We lost a little bit of ground in the last general elections but we are promising that we have learnt our mistakes and will this time around win at least 65% of the votes in the region,' he noted.
From Thomas Fosu Jnr, Koforidua