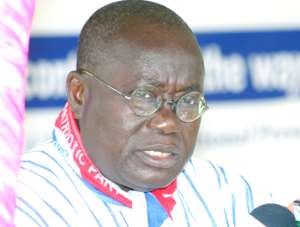 Mr. Yaw Osafo-Maafo, is known to many Ghanaians as a banker who once served as the managing director of the National Investment Bank during the Rawlings regime until he was booted out. He has been friends with ex-president for many years so it was not difficult for Osafo-Maafo to join Kufuor's campaign team in both the 1996 and 2000 presidential elections. When Kufour won the 2000 elections, luck smiled on Osafo-Maafo so he was appointed the Minister of Finance and Economic Planning. Some unexplained circumstances later pushed him to head the Education and Sports Ministry.
At the Education and Sports Ministry, something happened between Kufuor and Osafo-Maafo of which the ex-national chairman of the NPP, Mr. Haruna Esseku was privy to. In the event of that incident Osafo-Maafo lost favour with Kufuor and was therefore booted out by Kufuor. The rumor mill which later became very credible had it that, Osafo-Maafo, landed on booty at the Ministry of Education, and greedy as he is, decided to cash in alone. When word however got to another ravenous chap, Kufuor, he summoned Osafo-Maafo and asked him to declare the loot.
But word had it that Osafo-Maafo was not happy with the demand by Kufuor to split the booty and told him to allow him to keep the "little" kickback he had also chiseled from the Education Ministry since Kufuor was getting the bigger ones at the Osu Castle. Kufuor who was very offended and not happy with the behaviour of Osafo-Maafo asked Kwadwo Mpianim to draft his dismissal letter immediately Osafo-Maafo left the castle.
Ladies and gentlemen, that was how Kufuor and Osafo-Maafo fell out, and that is the main reason why Osafo-Maafo came and joined hands with Akufo-Addo, and played a major role in his 2008 campaign and is still a linchpin of his 2012 campaign.
During the Woyome saga, Osafo-Maafo was fingered out as one of the dirty hands. In fact if this man was clean he would not have run to court to stop the Economic and Organized Crime Office (EOCO) from inviting him to testify.
We are all living witnesses when finally Osafo-Maafo honoured an invitation from the police Criminal and Investigation Department to testify on the Woyome issue. I know Akufo-Addo would not again feign that he is not aware of this development.
It is however important to note that Osafo-Maafo who came to Akufo-Addo with his ideas also came with his bag of money. In fact his ideas and money which he brought to support Akufo-Addo's campaign is not for free. He hopes to cash in big time if fortune smiles on Akufo-Addo and he becomes president in 2013.
But Akufo-Addo who has been fighting on several fronts to rebrand his battered image keeps throwing vain promises in the air without even looking at the character traits of those he had surrounded himself with. I bet you if Akufo-Addo is serious about his presidential campaign he would not have issued a stern warning that he would not entertain anybody who wants to enrich himself/herself from serving in his government, in the event of his victory in the up-coming presidential election.
If Akufo-Addo is a serious person he should pick the phone and call Kufuor and simply find out from him why he dismissed Osafo-Maafo from his government. And this is the same man corrupt man who is one of the special and most coveted advisors and insiders of Akufo-Addo's campaign. So if indeed Akufo-Addo is serious about fighting corruption why has he surrounded himself with people with questionable and shady characters? The NPP folks who are determined to come to power at all cost would not see anything wrong with this. In fact they would even forget that since charity begins at home, Akufo-Addo should have cleaned his messed up inner circle before making those statements that tend to make him a laughing stock at the kitchen tables of voters.
Akufo-Addo should also note that one does not necessarily have to serve in government before he/she can become corrupt. All the filthy deals that went on during the Kufuor's government were deals cut by behind the scenes businessmen and women, so this warning by Akufo-Addo to demonstrate that he is a steel willed person would not fly with anybody. People who know Akufo-Addo very well and what he stands for; continue to shake their heads in disbelief as this man continues to say things which he hopes will resonate with voters and just get him elected. The presence of Osafo-Maafo alone in Akufo-Addo's inner circle makes a mockery of his statement on corruption.
http://majjacks80.blogspot.com
[email protected]