Vigilante against Propaganda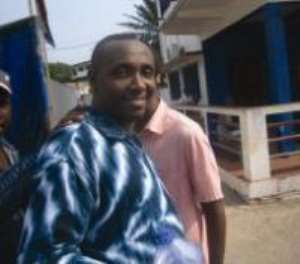 PRESS CONFERENCE:      Vigilante against propaganda  
Delivered By: Mr. John Boadu (Deputy Communications Director-NPP)
 
Ladies and gentlemen:
On 29th of February 2012, Mr Fiifi Kwetey, the Deputy Minister for Finance & Economic Planning issued a statement as a response to widespread complaints by Ghanaians that times are tough or "enko yie" mie ku kum, emi ehii, aa bge wo, Be zoa Da Keo. The statement sought to preach to Ghanaians about how much our economic circumstances have improved under the NDC government.
He was the same person who as editor of the Crystal Clear Lens published that all gold reserves of the country had been stolen and sold by the NPP administration. This misinformation was latched on by his propaganda outfit and many otherwise respectable members of the NDC to lambast the New Patriotic Party.
The suggestion by Mr Fiifi Kwetey and other government officials that they inherited an economic mess or empty coffers is most annoying. Three weeks after coming into office, the Mills-led NDC administration spent billions of cedis (out of the empty coffers they inherited from the NPP) just for drinking tea during NDC transitional meetings. Shortly, the NDC Minister for Youth & Sports was spending billions of cedis buying huge quantities of pampers and khebabs for unknown purposes. On top of that, the Minister travelled round the world with his girlfriend, all at the tax payers' expense. The response of President Mills was that it was not the first time a minister had travelled outside with his girlfriend.
But the worst was to follow, as government officials connived with their cronies and paid out gargantuan dubious judgement debts from the coffers they inherited from the NPP administration. When the Attorney General, Mr Martin Amidu, attempted to recover some of the stolen money, he was immediately sacked for a so-called "misconduct".
Is it not curious that, today, Mr. Fiifi Kwetey and those of his like, in spite of the overwhelming evidence, can still suggest to anybody that they inherited empty coffers?
INFLATION:
Now, let's make some brief comments about what was touted as the economic achievements of the Mills government. On inflation, it should never be too hard for even the lay person to appreciate that if the NDC had inherited an inflation rate of 40.5% as the NPP did in January 2001, they could not have achieved single digit rate of inflation. They were lucky to inherit an inflation rate of 18.1%. Yet Mr Fii Kwetey thinks this is the NDC government's biggest achievement. In fact, by the year 2004, the NPP government had reduced inflation from 40.5% it inherited from the previous NDC government to 16.4%.   Ironically, the result of single digit inflation is the gargantuan increases in prices of goods and services.  
 
Over the 3 years of the current NDC government, the price of any item you can think of has risen by between 50% to over 300%.
A few examples would illustrate these astronomical increases :

 
2008
JANUARY,2012
 

Sachet Water
3p (¢300)
10p (¢1000)
Over 300%

Secondary School Fees
(Abuakwa State College, Kyebi)
GH¢120 (1,200000)
GH¢273 (¢2.73m)
Over 100%

Electricity/Compound Hse B'shie
GH¢10 (¢100,000)
GH¢25 (250,000)
Over   150%

Standard water poly tank (Adenta)
GH¢12 (¢120,000)
GH¢30 (¢300,000
Over 200%

Trotro ( Bubuashie -K'shie)
GH¢15p (¢1,500)
GH¢40p (4,000)
Over 150%
 

Trotro ( Bubuashie -Circle)
GH¢30p (3,000)
GH¢50p (5,000)
Over 50%
 

1 kg Bread
GH¢1(¢10,000)
GH¢2 (¢20,000)
Over 100%
 

Gari Olonka
GH¢1 (¢10,000)
GH¢2.00 (¢20,000)
Over 150%
 

Rice Olonka
GH¢6 (¢60,000)
GH¢11.4 (¢114,000)
Over 80%
 

Maize (bag)
GH¢20(¢200,000)
GH¢120 (¢1.2m)
Over 500%
 

Ideal Milk
GH¢60p (6000)
GH¢1.20p ¢12,000)
Over 100%
 

Petrol Gallon
GH¢3.80p(¢38,000)
GH¢7.80p(¢78,000)
Over 100%
 

Accra-Kumasi
GH8 (¢80,000)
GH¢22 (¢220,000)
Over 150%

Ball of Kenkey
GH¢20p (¢2000)
GH¢50p (5000)-1.0
Over 150%-400%
 

Road Tolls
GH¢5p (¢500)

Disclaimer: "The views/contents expressed in this article are the sole responsibility of the author(s) and do not necessarily reflect those of Modern Ghana. Modern Ghana will not be responsible or liable for any inaccurate or incorrect statements contained in this article."