President Mills lays wreath in honour of American heroes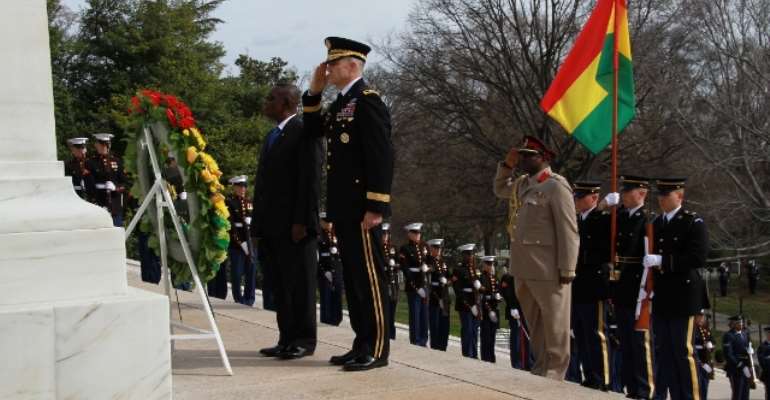 From Benjamin Mensah, GNA Correspondent, Washington DC, USA
Washington DC, March 9, GNA - President John Evans Atta Mills on Thursday laid a wreath in honour of US heroes at the Arlington National Cemetery, Virginia, near Washington DC.
He placed the wreath, designed with flowers in the Ghana National Colours of red, yellow and green at the cenotaph of the Unknown Soldier.
The wreath laying formed part of the itinerary of President Mills, who is on a State Visit to the US.
All the tombs have been painted white and arranged orderly with the bio-data of the occupants written on them.
The creation of the cemetery was begun by George Washington Parke Custis, a grandson of Martha Washington and step-son of President George Washington, America's first President, who inherited the land in 1802 and dedicated his life to the commemoration of the first President.
It later became the nation's first memorial to George Washington, and for 30 years the Arlington House became a home to one of America's most famous soldiers and his family.
The place underwent a series of changes and later became a national cemetery for the memorials to all branches of the military, to nurses and chaplains who were killed in the line of duty, and to the people who lost their lives in the September 11, 2011 attack on the Pentagon and in the global war on terror.
A gun-salute announced the arrival of the President after which the National Anthems of Ghana and America were played, as cemetery guards, marched with raised flags.
President Mills, followed by a retinue of Ministers, climbed to the steps to the cenotaph, and placed the wreath at the cenotaph, while a group of schoolchildren stood to observe the ceremony.
A post was sounded, and the ceremony solemnly came to a close.
After signing the Visitors' Book, President Mills was given a certificate.
GNA