Mass funeral for Congo blast victims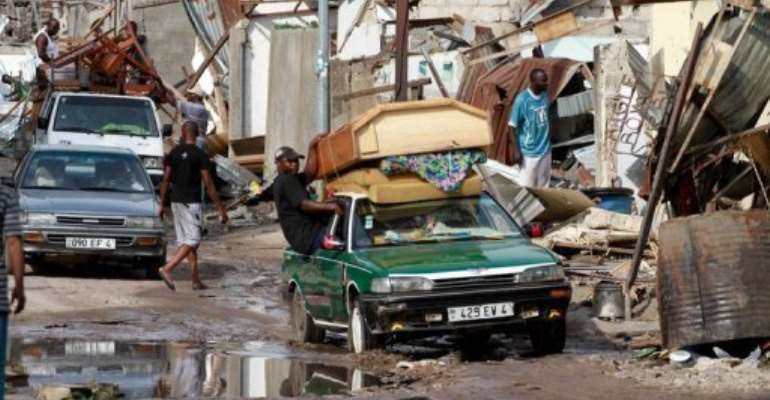 BRAZZAVILLE (AFP) - Funerals and a memorial service for nearly 200 people killed in Congo by last weekend's munitions dump blasts will take place on Sunday, a government spokesman announced.
"The government will take care of the burials and everything that goes with them," government spokesman Bienvenu Okiemy told AFP on Thursday.
The funerals would be held in the city centre and would be preceded by a memorial service to pay homage to the dead, attended by President Denis Sassou Nguesso, he added.
The series of blasts last Sunday at a depot in the east of the Republic of Congo's capital Brazzaville killed almost 200 people and wounded more than 1,300, leaving city hospitals overwhelmed.
The explosions were blamed on a short-circuit and fire.
Congolese soldiers meanwhile widened a safety zone around the site of the explosions, amid reports that experts had begun work to make the area safe.
Troops at the edge of the zone were preventing local people who had been allowed in the previous day from passing.
One soldier on duty told AFP the cordon had been expanded while experts had begun tackling the munitions still unexploded after Sunday's devastating blasts. This information could not immediately be officially confirmed.
Army officers and experts from the international Mines Advisory Group (MAG), which specialises in demining work, have been working on a plan to make the site safe.
In districts just outside the zone, local people continued to look for their belongings in the ruins of their homes. Hundreds of houses around the arms depot were destroyed, leaving more than 5,000 people homeless.
Many complained that looters had already made off with their possessions -- and much of what had not been looted was smashed.
"I'm too late," said one man in his forties who did not want to be named. "They took everything of value. Thieves, thieves!"
"They took all our money," said a woman, who also wished to remain anonymous. "The prowlers come and take what they can put in their pockets: money, jewellery," she added.
On Wednesday, the Congolese Observatory of Human Rights denounced what it said was the government's "chaotic" management of the disaster.
Many of those made homeless by the explosions were sheltered in two churches, in an indoor market and in the city's stadiums, it said.
The Chadian president's office on Thursday announced it had sent meat, medical supplies and 500 million CFA francs (760,000 euros/one million dollars) to the Republic of Congo to help those hit by the disaster.