Police arrests two Fulani armed robbers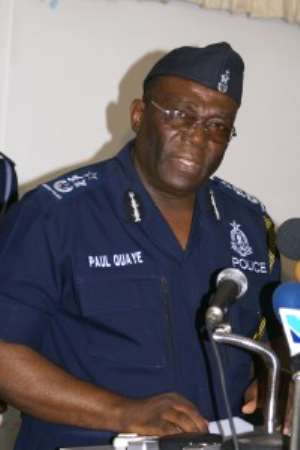 Mr. Paul Tawiah Quaye, IGP
The Eastern Regional Police have arrested two suspected Fulani armed robbers who blocked the main Akuse road and attacked travellers during the early hours of Friday, March 2.
At a press briefing in Koforidua on Friday, the Regional Police Commander, Deputy Commissioner of Police (DCOP), Mr. Kwabena Gyamera-Yeboah said his outfit received a distress call from the Akuse Police that armed robbers were attacking travellers at Akuse junction.
He said he quickly mobilised some men from Koforidua and dispatched them to the scene, with their counterparts in Akuse, but they did not meet the robbers as they had finished their operations and fled.
DCOP Gyamera-Yeboah said the police mounted an intensive search for the robbers and upon a tip-off two of the suspected robbers namely Issifu Issah 42 and Tanko Fuseini 24 were arrested from their hide out at Akuse.
He said during the search, the police discovered one locally manufactured pistol, one dagger, two iron caters, two scissors, a pinch bar, seven AK 47 cartridge, a knife and a military uniform.
DCOP Gyamera-Yeboah said during the robbery operation two cars which refused to stop were shot at.
He said those who sustained serious injuries were rushed to the Volta River Authority Hospital at Akosombo where they are receiving treatment.
DCOP Gyamera -Yeboah said an intensive search had been mounted to arrest the rest of the robbers.
He said the two suspects are currently assisting the police in their investigations and would be arraigned on Monday.
DCOP Gyamera Yeboah appealed to landlords and landladies to report suspected criminals to the police for questioning.  GNA