Two Arrested For Highway Robbery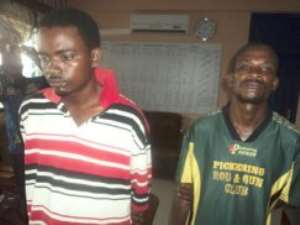 Issifu Issah (R), 42, a Burkinabe and Fusseini Tanko (L), 24 from Niger
Two persons have been arrested for their alleged involvement in the armed robbery that took place at the Akuse Junction last Friday.
Issifu Issah, 42, a Burkinabe, and Fusseini Tanko, 24, from Niger, are said to be among four armed robbers who robbed some passengers at the Akuse Junction about 2 a.m. on Friday.
They are reported to have carried out their operation using AK-47 rifles which they used to fire at one of the vehicles after its driver, Mohammed Issifu, 39, failed to heed their signal to stop.
Issifu was hit in the throat and the chin, while his 26-year-old driver's mate, Peter Bangura, sustained bullet wounds in his thigh and the two were rushed to the VRA Hospital at Akosombo for treatment.
Briefing the press in Koforidua on Friday, the Eastern Regional Police Commander, DCOP K. Gyamerah-Yeboah, said about 2 a.m. last Friday, the Akuse Police patrol team received a distress call that four armed robbers were robbing some passengers on board vehicles at gunpoint at the Akuse Junction.
He said when the patrol team rushed to the scene, they met a KIA Reno truck, with registration number GT 4407-11, driven by Issifu and his mate, Bangura.
The commander said the patrol team found Issifu with gunshot wounds in his throat and chin, while his mate had been shot in the thigh.
He said Issifu told the police that the robbers had shot him and his mate after they had refused to heed their signal to pull over.
DCOP Gyamerah-Yeboah said information gathered at the scene revealed that the first vehicle to be robbed was a Hyundai Excel taxi cab, with registration number GW 8296 P and driven by Kofi Narh, 25.
The victim told the police that when he refused to pull over, they fired at his bonnet and the bullet penetrated it and hit the dashboard
before coming out.
The commander said after the police had sent Issifu and his mate to the VRA Hospital for treatment, they called for reinforcement from Akosombo to comb the area for the suspects.
DCOP Gyamerah-Yeboah said at the scene, the police found eight empty shells and one live ammunition, after which he received intelligence report on the robbery and led more reinforcement from Koforidua to support the Akuse Police.
"We succeeded in arresting the two men and when we took them to their rooms at Akuse Junction, we retrieved a locally manufactured pistol, two crow bars, a cutter, a pair of pinches, a dagger, a pair of scissors, a machete and a military uniform," he
said.
He said the two suspects, who were currently assisting the police in their investigations, would be put before court Monday.