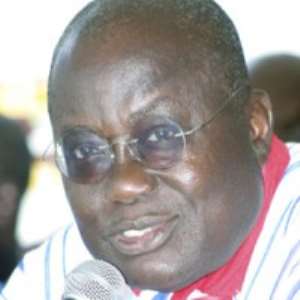 The NPP 2012 Presidential Candidate Nana Addo Dankwa Akufo –Addo says good governance and investment in education skills and jobs will be the cornerstone of his vision to bring social and economic transformation to Ghanaians.
Nana Akufo- Addo was addressing hundreds of Ghanaians at a town hall meeting organised by the newly formed NPP Birmingham Midlands Chapter. This town hall meeting was also a response to a request from Ghanaians living in areas outside London to meet him and hear his plans for Ghana's future if elected.
Nana Addo told the gathering that he was deeply troubled during his listening tour around the country to find majority of our intelligent able bodied young men and women playing ludo , draughts (dame),oware and cards when their talents and knowledge could be put to good use. This showed that President Mills had failed to create any jobs neither had he implemented any programmes since he assumed office to absorb these youth. He said his tour even made him determined to work hard and leave no stone unturned to win the next election and form a government that will bring practical programmes that create jobs and encourage people to save for themselves, their families and future generations, strengthen healthcare and restore confidence.
Nana Addo said Ghana's future is bright if it is built around education, skills and creation of jobs that pay well. He said a free education to senior high school backed by a consistent level of investment not only in educational infrastructure and technology but also a well trained workforce that is creative ,innovative and able to use the resources of the country to create wealth for the masses to benefit.
Amid singing of the woyome gargantuan "song by a section of the crowd", Nana Addo said President Mills had effectively given up the fight on defeating corruption , by telling Ghanaians that he blocked payments to Mr Alfred Agbesi Woyome, his campaign financer and close friend twice but his ministers went ahead and issued payment of huge sums of money. This situation Nana Addo observed, is unacceptable for the country.
He said Ghanaians are losing trust in President Mills ability to control his government. He said the payment of 642 million Ghana cedis of questionable judgement debts under his watch at a time Ghanaians are expecting the government to support investment in infrastructure and especially continue the good programmes under previous governments is a failure of leadership and poor management of the country's finances. He is not surprised, that some sections of the Ghanaian society including Ghanaians abroad are accusing the President and some colleagues in his government of colluding to benefit from these monies.
Nana Addo assured the gathering that his public record as a minister in Ex- President Kufuor's government and his no nonsense attitude towards corruption should tell anyone who has any ideas to misuse or crookedly obtain government funds for their personal benefit under his leadership to think again. "Akufo- Addo will never allow government monies to be given to anybody recklessly" he said to shouts of applause and a standing ovation.
He said public confidence must be restored quickly in government so it can get back to creating a just, peaceful environment and contribute its quota to building a new society of opportunities that every Ghanaian would benefit from.
There were other speeches from the minority leader Osei Kyei Mensah Bonsu, Hayford Atta Krufi NPP UK Chairman and Nana Otu Turkson, Interim Chairman of the NPP Birmingham Midlands Chapter.
Nana Yaw Sarpong
Communications Officer
NPP UK
07983302369