Ghana can only develop under focused leadership - Abdul Rauf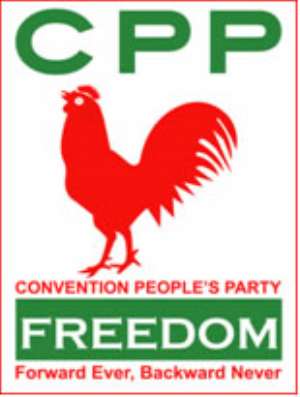 Accra, March 5, GNA – Ghana could only develop under a focused leadership by the Nkrumahist fraternity, Mr Issifu Kadir Abdul Rauf, Acting National Youth Organiser of the Convention People's Party (CPP) has observed.
He noted that the 55th Independence anniversary celebration was more of a wake-up call on Nkrumahists to reflect on the way forward by building a strong common Nkrumahist party to redeem Ghanaians from the numerous challenges facing them.
"We can do it, let us ignite a spirit of seriousness in what we stand for. I believe Ghanaians will repose confidence in Nkrumahists if only we are able to live up to expectation. We cannot afford to lose focus and make the cheap politics of the NPP and NDC to triumph," he added.
Mr Abdul Rauf made the observation in an interview with the Ghana News Agency in Accra on Monday.
He said the CPP believed in the relevance of Nkrumah's vision and called on all Nkrumahists to unite to regain their strength to wrest power in Election 2012.
"Ghana needs much better than what has been offered for the past years under a democratic dispensation. Our politics has been reduced to insults and blame games by these two parties."
Mr Abdul Rauf pointed out that Dr Nkrumah within nine years achieved more than 100 years under colonial rule and that after the overthrow of Dr Nkrumah's regime no other government had made any comparable gain relative to that legacy.
GNA