We won't accept anybody having a controlling stake in our affairs - Nana Addo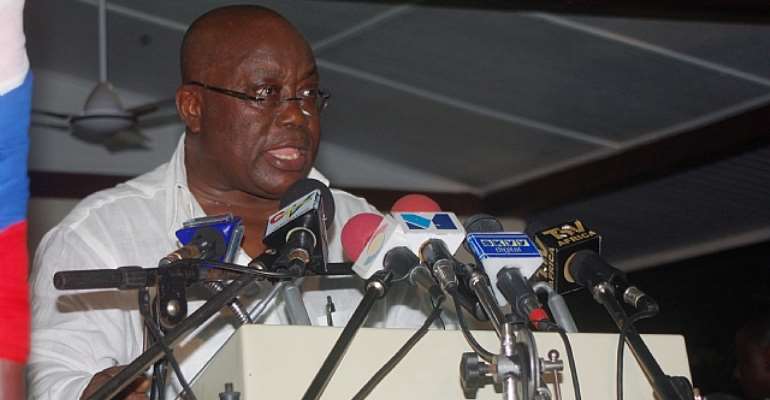 Opposition leader, Nana Addo Dankwa Akufo-Addo says Ghana will not accept any country be it in Asia, Europe or the Americas, having a controlling stake in the country's affairs.
'We don't want to be the pawn of any power whether it is left, right, Chinese, American or anybody else; we want the controlling stake in the Ghanaian economy to be in the hands of Ghanaians,' he said.
Nana Addo, who is the presidential candidate of the opposition New Patriotic Party was speaking on the BBC's Hard Talk programme Monday.
Maintaining he had nothing against the role of China in the development of Ghana in particular and Africa in general, the NPP flagbearer said so long as the intervention of China aligned perfectly with the development objectives of the people of Ghana, he had no objections.
'I think that what it is that we should all be very clear about is that so long as we continue to be raw material producing countries, changing the destination of the export of those raw materials doesn't necessarily change the basic facts of life of our economies and it is the changing of those basic facts that is the critical challenge for us; so seeing China becoming now the destination of preference for the export of African raw materials – as far as some of us are concerned – doesn't change the facts about the African economy. It is the fundamental nature of the African economy that we require to change if indeed we are going to bring prosperity to the mass of our people and that is, to move away from raw material producing economies to industrializing, value-adding economies,' he asserted.
He said any investment, whether it is 'Chinese investment, American investment, Japanese investment, British investment [that] plays into' Ghana's fundamental objective of modernizing its economy, 'I welcome it. To the extent that it attempts to dilute or divorce itself or veer away from that, I will be critical of it. Our fundamental objective is what we need to see established in our relationship with whoever.'
Nana Addo explained his 'all die be die' comments, insisting the statement is never a call to violence and that his record in public life clearly vitiates from any such contemplation.
What the 'all die be die' comment was meant to do, he said, was to draw attention to the fact that 'violence begets violence' and that there was absolute need for President John Mills - who was yet to make a comment on violence visited by his party supporters on their opponents at by-elections - to ensure that 'we don't have to go down that road.'
The NPP flagbearer also rejected suggestions that the high economic growth achieved last year was due to prudent management of the economy by the Mills administration.
He said oil revenues largely accounted for the growth.
Speaking to his signature project of providing free education up to senior high school level, Nana Addo, while not giving indication of how much it would cost to do that - he has to announce that to Ghanaians first – insisted that new revenues, efficient management of the national resources and an expansion in the economy will together create the needed funds for the promise which he said was not just an electoral promise but a necessity.