Only 20 out of 300 JHS leavers at Nsaba enter SHS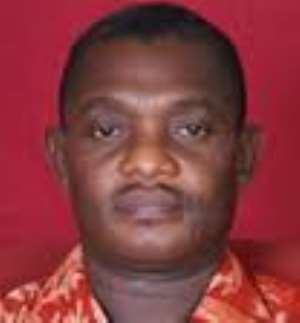 Agona Nsaba, (C/R), March 5, GNA-The Member of Parliament (MP) for Agona East, Mr John Kwesi Agyabeng has observed that only a handful of students who graduate from JHS in the district make it to Senior High School despite their good grades, describing the prevailing trend as a disturbing one.
He attributed the situation to poverty on the part of most parents which prevents them from providing adequately for their children's education.
The MP said this when he inaugurated a Vocational Training Center at Nsaba in the Agona East District of the Central Region.
The Centre was established by the MP to help train the youth in gainful employment to become financially self-supporting.
A total of 96 female JHS graduates from Nsaba and other surrounding towns were enrolled in the institute to undertake three years apprenticeship in dress-making and hair dressing.
The MP presented 30 sewing machines and four hair dryers to the Vocational center as his contribution towards the training of the youth.
According to him a research conducted recently showed that only an average of 20 of about 300 JHS leavers from the schools at Agona Nsaba were able to enter Senior High School annually despite their passes.
Mr Agyabeng said the research further revealed that those JHS leavers had no option than to migrate to urban centres to sell fresh coconut, dog chains and perform other minor jobs which did not earn them better living.
He said the establishment of the Vocation Training Centre for Nsaba was among his vision for the youth, especially the girl-child in the area to help prepare them for a better future.
Mr Agyabeng said the New Patriotic Party had the welfare of the youth at heart, which was the reason Former President J.A. Kufuor introduced numerous social interventions such as National Youth Employment Programme (NYEP), National Health Insurance Scheme, capitation grant and the school feeding programme to lessen the burden on Parents.
The MP said every government must have policy direction which would enable the youth to have easy access to quality education in order to guarantee their future".
Mr Agyabeng said the NPP had capable men and women who could fix the nation's economy and called on Ghanaians to reject the NDC and vote massively for Nana Akufo-Addo in the December 7, Presidential and Parliamentary elections.
Mr Dennis Armah-Frempong, Agona East Constituency Chairman of NPP said the MP had fulfilled promises he made to the people, and asked the people to vote for Mr Agyabeng and Nana Akufo-Addo in the upcoming elections.
He appealed to parents to encourage their daughters to take advantage of the vocational training Center and learn trades to avoid becoming unemployed.
GNA