Admirers honour 'hero' Mugabe with signature label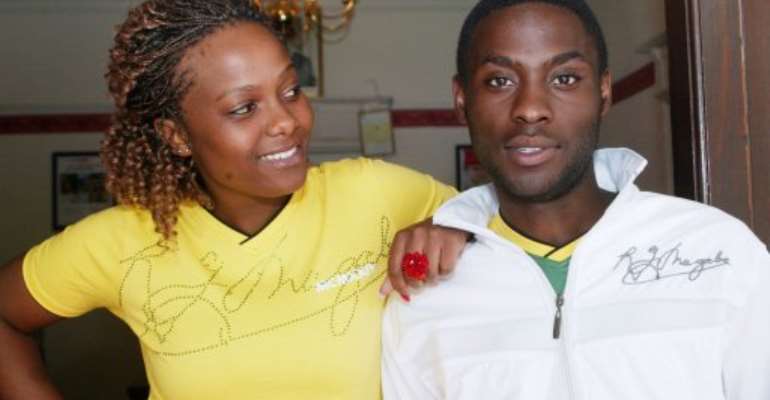 HARARE (AFP) - From Marxist revolutionary to Africa's oldest leader to fashion icon. That's how a group of young Zimbabwean designers see Robert Mugabe, whose signature they have splashed across a new clothing line.
"He is a revolutionary, he is a cultural icon and we decided, why not honour him," Justin Matenda, 28, a director of Yedu Nesu, makers of the Mugabe clothing label said.
"This is something that we want to be upheld by so many generations to come."
Under the brand House of Gushungo -- Mugabe's clan name -- the 88-year-old president's signature is splayed in silver studs across caps, t-shirts coffee mugs and berets. Some items show his birth year, 1924, in Roman numerals.
It's a high-priced upgrade from the tradition of emblazoning his image on cloth prints, given to women to wear as wraps or sewn into men's shirts and caps.
Prices range from $10 to $30, in a nation where the World Bank says nearly three-fourths of the population lives in poverty, on less than three dollars a day for a family of five.
But Matenda has big dreams of taking on famous labels like Luis Vutton, Gucci and Paul Smith. He wants to take samples of the line to Paris Fashion Week.
"Even if we are not going to be able to take part in this event this year. We are going to take part in the next coming years," Matenda said.
"I am proud to be associated with our president, with his ideologies and they make me who I am right now," he said.
"This is not political, it is very much apolitical. This is just a fashion label, just like any other label you might think of."
But human rights campaigner Blessing Vava said the clothing was a blatant campaign ploy by Mugabe's ZANU-PF, which is pressing for elections this year.
"This is part of the ZANU-PF election campaign to desperately sell their candidate ahead of elections," Vava said.
"ZANU-PF is employing all tactics from music to clothing labels to campaign for its leader. But I don't think the majority of Zimbabweans will buy the label," he said.
Some of the clothing was spotted at Mugabe's 88th birthday rally in the eastern city of Mutare, but the line has yet to make a big splash on the streets.
"I am yet to see the clothes, it is actually news to me," said a street-corner cigarette vendor in Harare.
Matenda says the dearth of fashion labels with a local identity inspired him and his friends to launch Mugabe's clothing line.
"Each and everyday we are putting on clothes and they have different inscriptions on them. Some Hugo Boss, some Paul Smith, some Giorgio Armani -- but it's quite unfortunate that most people can't even associate themselves with these people," he said.
Mugabe approved the use of his signature for the label although the designers did not meet him in person. Matenda said that Mugabe told them the signature was his but it belonged to the people.
The clothing line is the latest in a list of items designed to honour a man idolised by his supporters as a liberation hero and reviled by his foes for his tainted human rights record.
In addition to generations of campaign cloth, state radio and television allocate generous airplay to musicians who sing praises for the man who has ruled Zimbabwe since independence from Britain in 1980.
Matenda said they are planning to brand jackets, shoes, suits and watches with Mugabe's signature, with goods manufactured both locally and in Asia.
"We have seen that we are holding to a brand that cuts above any other brand," he said. "I rank it above all the labels one might think of, the Luis Vuittons, the Guccis and the Giorgio Armanis."
Matenda said Mugabe would receive no royalties.