5 March 2012
|
Libya
Australia 'disgusted' by Libya war grave attacks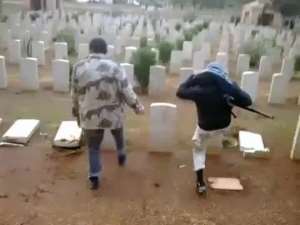 SYDNEY (AFP) - Australia on Monday said it was "appalled and disgusted" by the desecration of Commonwealth war graves in Libya and was working to determine whether its own soldiers' headstones had been affected.
The attacks, on the British and Commonwealth war cemeteries in the eastern city of Benghazi last month, were reportedly carried out by Muslim Salafists angered by the burning of the Koran at a US military base in Afghanistan.
Video footage shows a mob smashing up headstones and a cross monument, saying "they are dogs".
"The government is appalled and disgusted by these reports, and condemns without reservation this act of desecration," a spokesman for Australian Prime Minister Julia Gillard told AFP.
"Should the reports prove accurate, we call on the Libyan interim government to investigate and hold to account those responsible."
Libya's transitional government has condemned the attacks and vowed to find the perpetrators, after the incident drew a protest from the British government.
Craig Emerson, Australia's acting foreign minister, said his government was still trying to determine whether any of the 48 Australian graves in the Benghazi War Cemetery were among nearly 200 headstones damaged.
"This is a terrible act," Emerson told reporters.
He said the motives behind the attacks were a "matter of conjecture" at this stage but "nothing excuses the desecration of war graves, whether they are Australian, whether they are British, and no matter who they are".
A total of 1,214 Commonwealth troops who died in the north African desert battles of World War II are buried at the Benghazi War Cemetery.
Of the 1,051 identified graves, 851 are those of British troops, with others belonging to Australian, Canadian, New Zealand, South African and Indian servicemen.
Around a quarter of the headstones in the nearby Benghazi British Military Cemetery, which does not contain World War II graves, were also damaged.
The British and French air forces last year aided Benghazi-based rebels to oust Libyan dictator Moamer Kadhafi from power after his tanks had encircled the city.