O.B. Amoah Released On Bail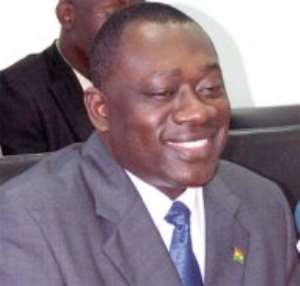 Mr O. B. Amoah
Mr O.B. Amoah, former Deputy Sports Minister who was arrested Sunday night in connection with the Woyome saga, has been granted bail.
He was released around 4:15 p.m. Monday on bail in the sum of GHC20 million with two sureties.
Mr Amoah, who is also New Patriotic Party MP for Nsawam, is charged with two counts of corruption and willfully causing financial loss to the state.
He is the fifth person to be picked up aside Alfred Agbesi Woyome, the businessman, who allegedly made false claims to receive GHC51.2 million in judgement debt from the state.
Other persons standing trial alongside Woyome are Samuel Nerquaye-Tetteh, a Chief State Attorney, Mr Paul Asimenu, Director of Legal Services, Ministry of Finance and Economic Planning and Gifty, wife of the Chief State Attorney.
The MP's release was a scene of excitement and jubilation as a crowd of his supporters who had hitherto, idled at the precincts because they would not be allowed in, suddenly appeared in their numbers when they saw him appear from the Criminal Division (CID), of the police service and carried him shoulder -high.
.
Heavyweights of the New Patriotic Party (NPP), including Minority Leader, Mr Osei Kyei-Mensah-Bonsu, General Secretary John
Kwadwo Owusu Afriyie, several MPs, family members, friends and sympathisers had besieged the premises of the Police Headquarters in the morning to give Mr Amoah moral support.
At peace with themselves upon his release, the high ranking NPP members boarded their vehicles and drove off.