Woyome saga: Amidu got it wrong - Nerquaye-Tetteh's lawyer charges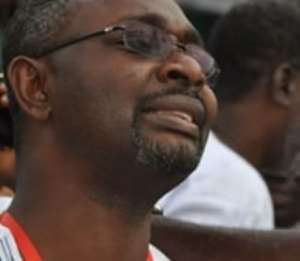 Alfred Woyome, key actor in the controversial judgement debt payment
Lawyer for the embattled Chief State Attorney Samuel Nerquaye-Tetteh has described as false new allegations made by the sacked Attorney General Martin Amidu.
Mr. Addo Attuah told Joy News, Amidu's new allegations are misleading and calculated at courting public discontent towards his client.
Amidu in his latest statement indicted Mr. Nerquaye-Tetteh and two others - Senior State Attorney Cecil Adadevor and Solicitor-General, Mrs. Amma Gaisie for asking him (AG) to withdraw a pending case against Woyome and to proceed with the payment of 9 million cedis being demanded by Woyome.
"What the public does not know is that in November 2011 the Solicitor-General, Mrs. Amma Gaisie, supported two memoranda written by the Senior State Attorney, Cecil Adadevoh, and the Chief State Attorney, Mr. Samuel Nerquaye-Tetteh, to me as Attorney-General to authorize the withdrawal of the pending case by the Republic in the Commercial High Court against Alfred Agbesi Woyome to enable the Republic pay a further over GH¢9 million to Alfred Agbesi Woyome in final settlement of interests in the case. I refused and ordered them to continue with the case in court. The Solicitor-General and the Chief State Attorney, Mr. Nerquaye-Tetteh, continued to pursue me by memo to settle the interest as late as December 2011 but I refused," the statement said.
But in a reaction Mr Attuah said Amidu's claims against his client cannot be true.
According to him, his client initially handled the brief of the controversial Woyome case but opted to be released from playing such role.
He said his client handed over the brief after the initial payment of 17 million cedis to Woyome and had not played any significant role since then.
He said his client was not around when Woyome made the claims for the extra 9 million cedis and found it rather worrying that the former AG would make such an allegation against his client.
Meanwhile, Rockson-Nelson Dafeamekpor who is counsel for Alfred Woyome has also lambasted the former AG for the statement accusing him of underperforming.
Below is Mr. Nerquaye-Tetteh's full statement
Martin Amidu explodes
My attention has been drawn to a statement issued by the former AG, Martin Amidu and posted on www.citifmonline.com on 29th February 2012.
I have read this piece with dismay because it portrays the great lengths at which people in high positions of government, who have all the power and the resources of the State at their disposal, are going to implicate me in a crime I have not committed and to soil my hard-earned reputation.
I have since my wrongful arrest and detention on 4th February 2012 kept to myself but for whatever reason, Mr. Amidu, who throughout his tenure as AG did not see anything right with what anybody did in the AG's Office but kept putting us down and finding fault with every work done has found it necessary to drag me into this issue in order to sustain the impossible allegation that I had conspired with Mr. Woyome.
Mr. Amidu first claims that he discussed legal strategy with the SG, two CSAs and the SSA, who was handling the case with me. If any such meeting took place, I was definitely not in that meeting and have never discussed any legal strategy with Mr. Amidu regarding amendment of the writ and statement of claim by substitution. The first meeting I had with Mr. Amidu and the SG on the Woyome Case was on Friday, 23rd December 2011. The Chief Director was present. At that meeting, he sought for documentation on the matter since he had not read the entire file. He also wanted to know the basis for the payment of the entire GH¢51 million to Mr. Woyome. He even remarked to Mr. Adadevoh later on that we were doing "selective photocopying" of documentation that we thought was relevant and that he wanted the entire file photocopied for him.
I indicated at the meeting that the last letter I had drafted for Mrs. Mould-Iddrisu was in September/October 2010 in which she recommended to the Minister for Finance that the first instalment of GH¢17 million should be paid as ordered by the court. I was therefore not aware of any letter recommending payment of GH¢51million since I had been on leave since October 2010 and only resumed work sometime in December 2010. We went through the files and realized that there had been another letter to the Ministry of Finance dated 9th December 2010 signed by Mrs. Mould-Iddrisu and that that letter may have informed the decision of the Ministry of Finance to pay the entire GH¢51 million. It was a cordial meeting and I even wished him a Merry Christmas at the end.
About two weeks later, on another Friday which was probably 6th January 2012, Mr. Amidu again called us into his office and virtually accused me of leaking information to Mrs. Mould-Iddrisu about what had transpired on 23rd December 2011 and also to the Press regarding the memoranda written by SSA and the SG. The DAG, the SG, the Chief Director and the SSA were also present. I wish to state emphatically that I have no links with any journalist. In fact, I do not know any journalist and I have never been to any Press house. Mr. Amidu fails to realize that files on the matter had been copied over and over and that other persons have come into possession of the documents. If Mr. Amidu was certain that I had leaked information, I am sure that he would have taken drastic action against me then. He did not have any proof then and he still persist he maintaining this tenuous claim that I leaked information to Mrs. Iddrisu and the Press. For his information, Mrs. Iddrisu indicated subsequently that the letter dated 9th December 2010 was brought to her notice by the Chief of Staff.
Mr. Amidu asserts that the memoranda of the SG and the SSA were leaked. Only my Memo was not leaked. What Mr. Amidu has failed to tell the Ghanaian public is that I did not even write a Memo. I made hand-written comments on Mr. Adadevoh's Memo in which he had suggested that we invite Mr. Agyeman-Manu and Mrs. Iddrisu to testify in court, otherwise the case will fail. I should point out here that I requested and the Woyome File was re-assigned in August 2010 when Mrs. Iddrisu was still in office and I had nothing to do with the file until the SSA's Memo came up sometime in 2011. I was therefore not handling the matter with the SSA. In fact, I did not even know that he had been involved in a pre-trial conference in September 2010 because as I continue to maintain, I had handed over the file. However, when my opinion was sought on the matter, I suggested that we should avoid a situation where the two former Ministers would be called to court to testify since this would create unnecessary publicity. I discussed the matter with the SG and she suggested that since the High Court had ordered that only GH¢17million should be paid to Mr. Woyome, I should inquire from Mr. Paul Asimenu whether the money had been paid. It was when I called Mr. Asimenu that we had confirmation that the entire amount had been paid to Mr. Woyome. It was on that basis that I commented on the SSA's Memo that if the SSA thinks we do not have a case and the entire amount had been paid and that what was outstanding was the interest on delayed payments, then we should negotiate with Mr. Woyome on the interests on the delayed payments.
I do not recall that Mr. Amidu refused payments as he claims. What he said and which was given wide coverage in the press was that we should have been aware of the merits or demerits of the case before we issued the writ against Mr. Woyome and that he was not going to countermand the instructions his predecessor had given. The SG then asked me to go to court, since Mr. Adadevoh had travelled outside the country to request for an adjournment on the grounds that we were awaiting the AG's instructions on the matter with regard to settlement on the payment of the interest since the principal amount had been paid. I did go to court and reported back that the court had given us a date to settle on the issue of interest. It was this report that the SG took to the AG and he gave further instructions indicating that he had no problem with the case being settled, provided it was done professionally. The SG even passed a comment regarding his use of the word "professional" as if we do not act professionally in the Office. It is therefore unfortunate that Mr. Amidu would now turn round and tell the whole world that the SG and I were pursuing him as late as December 2011 to settle on the issue of interest. How did we pursue him? He needs to explain to the whole world how state attorneys can pursue an AG like him to do their bidding.
I am a mere public servant who has given 21 years of honest and dutiful service to this country. My only crime is that I allowed my wife to accept help from Mr. Woyome with regard to her business. I have not done anything wrong and yet my name has been dragged through the mud since this matter broke in December 2011. I have tried to keep quiet and leave it to the Good Lord to vindicate me.
I am pleading with Mr. Amidu and people like him to leave me out of the "gargantuan" lies that they have embarked upon to soil my reputation and also to make a scape-goat out of me.
Samuel Nerquaye - Tetteh